Trump is insulting John McCain on Twitter because of the controversial Yemen raid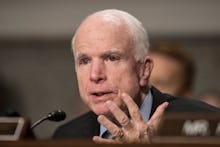 President Donald Trump began his day, as he often does, by being mad online. At 8:26 a.m., Trump directed a string of angry tweets at Arizona Sen. John McCain, a fellow Republican, over McCain's comments about a raid in Yemen in which a Navy SEAL and an unconfirmed number of civilians (including, according to NBC News, an 8-year-old girl) died.
McCain, who chairs the Senate Armed Services Committee, called the raid a "failure" on Tuesday. In addition to the Navy SEAL, William "Ryan" Owens, 14 members of al-Qaida reportedly were killed.
White House press secretary Sean Spicer pressed McCain for an apology. "I think anybody who undermines the success of that [raid] owes an apology and [does] a disservice to the life of Chief Owens," Spicer told reporters, according to Politico.
Trump has a history of attacking McCain
Spicer's handling of the situation did not keep Trump from insulting McCain on Thursday morning. As part of their running feud, during the Republican presidential primary, Trump questioned McCain's military service during the Vietnam War. 
"He's not a war hero," Trump said. "He was a war hero because he was captured. I like people who weren't captured." McCain spent a little more than five years years as a prisoner of war in North Vietnam, and more than two of those years were in solitary confinement.