First look at 'Fifty Shades Freed' featured in 'Fifty Shades Darker' end-credits scene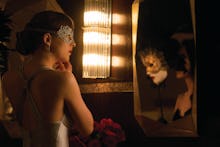 Fifty Shades Darker, starring Dakota Johnson and Jamie Dornan, hits theaters Friday. The film, based on the 2012 book by author E.L. James, follows Anastasia Steele and Christian Grey as they continue their steamy romance — both the BDSM and "vanilla" aspects. But the sequel is not just about their erotic love affair. People from Christian's past emerge and threaten to ruin their relationship.
The movie is not receiving the best reviews, but fans of the series still flocked to theaters late Thursday for early screenings. Viewers were surprised with a juicy scene featured at the end of the credits. 
According to Just Jared, theater-goers will get to watch a 10-second clip of the third and final movie, Fifty Shades Freed. The end-credits scene features a bunch of clips pieced together, including Ana putting her veil on as she prepares to marry Christian. Viewers also get a first look at Ana and Christian's honeymoon. 
But the sneak peek at the next film doesn't just feature happy moments for the couple. Bustle reports that the end-credits scene also shows a "menacing figure" grabs Ana. Could this be our first look at her kidnapping?
For those unfamiliar with the books, Fifty Shades Darker villain Jack Hyde resurfaces in Fifty Shades Freed in an attempt to kidnap Ana. Christian's security team manages to stop him before he can go through with his plan, but he still ends up getting to Ana later on.
Fifty Shades Freed will be released in theaters on Feb. 9, 2018.