Donald Trump on China: What is the 'one China' policy?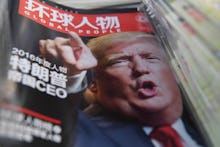 On Thursday night, President Donald Trump and his Chinese counterpart Xi Jinping held their first phone conversation since Trump took office on Jan. 20. The leaders discussed several issues, including Trump's commitment to honor the "one China" policy, a diplomatic recognition that there is only one China — and Taiwan is part of it.
Trump's backing of the one China policy is a shift from his prior stances. In an interview with Fox News in December, Trump said he didn't feel "bound by a one China policy unless we make a deal with China having to do with other things, including trade." He also had a phone call with Taiwanese President Tsai Ing-wen in December — the first time an American president or president-elect had spoken with a Taiwanese leader since 1979. 
What is the one China policy, and why does it matter to the U.S.? Let's take a look.
What is the one China policy? 
The policy can be traced back at the end of the Chinese Civil War in the late 1940s. The Kuomintang — a nationalist party in China — lost the war and retreated to Taiwan, while the victorious Communists established their form of government in Beijing. Both sides said they represent one China, but Taiwan is not recognized as an independent country by a large swath of the world, including the United Nations.
The one China policy is a view that there is only one state called China, even though two countries now claim the same name. Taiwan's official name is the Republic of China — though in Beijing, the island is viewed as a province of the People's Republic of China.
Under this policy, a country has to break bilateral relations with the People's Republic of China if it were to forge diplomatic ties with Taiwan, and vice versa. 
The delicate balance between China and Taiwan for the U.S.
The U.S. established formal relations with China under the Jimmy Carter administration in 1979, thereby cutting ties with Taipei. That same year, the U.S. established the Taiwan Relations Act, which sought "to preserve and promote extensive, close, and friendly commercial, cultural, and other relations between the people of the United States and the people on Taiwan." 
Throughout the years, the United States has maintained a delicate balance between Taiwan and China. 
Now that Trump modified his position on the one China policy, Beijing said both nations — the U.S. and China — can have "normal relations," Reuters reported.