What's next for Trump's Muslim ban now that the appeals court upheld the stay?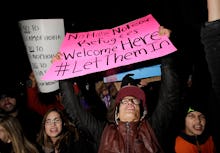 A federal appeals court dealt another blow to President Donald Trump's immigration order Thursday when it upheld a stay of the "Muslim ban" and sharply criticized the administration for failing to "[provide] what due process requires."
In a unanimous decision, the three-judge panel blocked the administration from enforcing the executive order — which bans immigrants and travelers from seven majority-Muslim countries and all refugees from entering the U.S. — until the courts can determine its legality.
The judges wrote in their opinion that the Trump administration failed to provide due process to those impacted by the ban, gave "no evidence" that people from the countries named in the order had committed a terrorist attack against the U.S. and noted the administration's "shifting interpretations" of the order.
Trump — who has been criticized by his own Supreme Court nominee for his recent attacks on judges — was predictably incensed by the decision.
What's next for the Muslim ban?
Many expect the case to go to the Supreme Court — either through an immediate appeal of the 9th Circuit Court's ruling, or after another lower court appeal before a larger panel of 9th Circuit judges. 
In remarks to reporters, Trump — who has yet to consult with his new attorney general, Jeff Sessions — called the ruling "political," and said he could win an appeal "in my opinion, very easily," according to the New York Times. Sen. Ted Cruz said Thursday he expected the Trump administration to win out in the Supreme Court. 
But the Supreme Court remains shorthanded, setting up a potential 4-4 split, which would leave the appeals court ruling in place. 
Even if Trump nominee Neil Gorsuch is confirmed to the Supreme Court before the case arrives, it's not a sure thing it will win out, according to Politico. While courts tend to uphold executive orders regarding immigration and national security, Trump's order was hasty in its conception and its implementation, and may be looked at differently by the Supreme Court. 
Trump's repeated calls to ban Muslims from entering the U.S. could also undermine the administration's argument that the order amounts to "extreme vetting" and not a "Muslim ban" — which critics argue is a violation of the establishment clause of the First Amendment. 
Critics of the executive order celebrated Thursday's ruling as a victory, even as they acknowledged that the fight is not over.