'GTA 5' Nintendo Switch Release Date: Take-Two hints at a possible 'Grand Theft Auto' port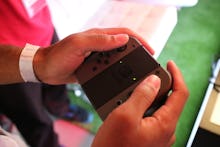 GTA 5 for the Nintendo Switch might sound unlikely, but we wouldn't rule it out just yet. Take-Two Interactive, the parent company of Grand Theft Auto developer Rockstar Games, had some interesting things to say today about the Switch. Nothing concrete was confirmed, but they did lend a little credence to the rumors of GTA making its way to Nintendo's Switch.
GTA 5 Nintendo Switch Release Date: Could it happen?
In an earnings call on Feb. 7, Take-Two CEO Strauss Zelnick was quoted talking kindly about Nintendo's upcoming convertible console, according to GameSpot. 
"We're excited about Switch," he said. "We're supporting Switch with NBA 2K18. We've said we're supporting the platform. I've said over and over again that when Nintendo comes to market you never want to count them out."
Take-Two's support of the Switch with NBA 2K18 will come in handy for Nintendo when buyers size up the Switch against other console options from Sony and Microsoft. But we still don't have any official word on if we can expect GTA 5 to make its way to the Switch. 
Rockstar Games rarely releases new games for Nintendo consoles, but Take-Two's excitement for the console could potentially change that for the Switch. Then again, it may all depend on how well NBA 2K18 performs on the new console.
In the meantime, Grand Theft Auto fans will have to resort to scratching their Nintendo itch through the use of terrifying Mario mods. 
See more Nintendo Switch news and coverage
Check out our comparison photos sizing up the Switch to the Wii U GamePad, along with details on the console's price, release date, preorders, battery life and our hands-on review. If you're interested in the Nintendo Switch's games, here's info on the new Super Mario Odyssey, Legend of Zelda: Breath of the Wild, Splatoon 2, Xenoblade Chronicles 2, 1-2-Switch and the goofy boxing game Arms.