'For Honor' Peacekeeper Stab: Moveset, guide and strategy for the character class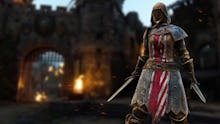 For Honor's open multiplayer beta is going strong right now, and players are slowly but surely being introduced to new character classes that fit their unique play styles.
The Peacekeeper is one such class: a fast and powerful class who's able to get in quick stabs and other moves in the blink of an eye. If you're new to the game or need some help on how to play with the Peacekeeper, we've got you covered with tips on how to use the Peacekeeper's various stab abilities based on our experience playing the For Honor open beta.
For Honor Peacekeeper Stab: How to perform the move
Using the Peacekeeper will afford you special moves, such as a stab. In order to perform a stab, you need to perform a light attack and then a guard break. Pressing the light attack button again will afford you another stab so you can do two in a row. If you press light attack again while performing your second stab, your Peacekeeper will perform a third consecutive stab.
Timing is very important when it comes to nailing each stab, so you may need to practice a bit when you're first trying to figure it out. The key is to not keep pressing the light attack button over and over, as this will effectively keep you from performing the combo you're looking for. When you do land a triple-stab, you'll get the upper hand on your opponent. Besting these stabs will ensure you can remain on the offensive even if the odds seem stacked against you. 
You can string stab attacks along with other attacks from the Peacekeeper's arsenal. The key to making the most out of the class is to find which attacks work for you. If you can put them together in a dance of varied movements, your enemies will be left guessing. 
More For Honor tips, tricks and guides
Looking for more help with the For Honor open beta? Check out Mic's guides for how to parry, how to execute, how to throw, how to revive and what to expect from the game's single-player campaign.