What to do if ICE knocks on your door and you're undocumented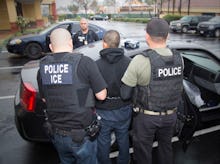 In the wake of last week's raids by Immigration and Customs Enforcement agents across six states, immigrant rights groups are reminding immigrants of their rights in the face of deportation.
Here are a few suggestions, based on those provided by the American Civil Liberties Union, National Immigration Law Center and United We Dream.
Have a lawyer ready
Have the phone number of an immigration attorney handy. If you encounter an ICE agent, call your attorney. Don't sign anything without speaking to your attorney.
Know your rights
If ICE agents knock on your door, don't open it unless they have a warrant issued by a court and signed by a judge. A warrant signed by a DHS or ICE employee isn't enough. Ask them to slip the warrant under the door to be sure. Make sure the warrant names a person at your address and/or areas to be searched. If they don't have a judicial search warrant signed by a judge naming a person at your address and/or areas to be searched, keep the door closed and say, "I do not consent to your search."
Avoid resisting and be truthful
If agents force their way in, remain silent and don't resist. Don't lie or present them with false documents. Giving them a false name will make it harder for your attorney, friends or family to find you later.
Keep records
Record the incident, if you can. If not, take down the officers' names and badge numbers.
ICE raids on the rise
Last week, according to multiple media reports, federal agents arrested hundreds of undocumented immigrants across at least six states. Officials from ICE, the agency responsible for the raids, described them as "routine," and claimed they had been in the works since before President Donald Trump took office. On Twitter, however, Trump took credit, tweeting, "The crackdown on illegal criminals is merely the keeping of my campaign promise."
Beginning Monday and ending Friday, ICE targeted immigrants in Atlanta, Chicago, New York, the Los Angeles area and North and South Carolina.
ICE routinely conducted similar raids under President Barack Obama, including those targeting immigrants without criminal records. Data collected by The Marshall Project show that, under Obama, around 60% of those deported had no criminal convictions "or whose only crime was immigration-related, such as illegal entry or re-entry." Only 19.8% of those deported by President Obama had violent criminal convictions, and 21.2% had nonviolent convictions.
But immigrant rights groups say the raids are more intense than they were under Obama, reportedly sending "a shock wave through immigrant communities nationwide," according to the Washington Post.