NES Classic Edition Availability: Stock production rumored to be ending in some regions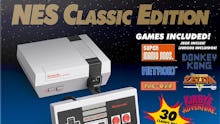 Ever since the diminutive NES Classic Edition made its debut, it's been extremely difficult to get your hands on. Now it looks like future availability could be out of the question, with a new report claiming Nintendo is set to shut down production for the mini-console.
NES Classic Edition Availability: Out of stock forever?
The NES Classic has been selling out on store shelves left and right since it first came out in November 2016, and Nintendo was never really able to keep up with demand. Some units even sold for hundreds of dollars on eBay thanks to extremely limited stock and high demand.
Now there could be even worse news for anyone still looking to get their hands on the NES Classic. It's possible that the NES Classic is ceasing production, at least in the Nordic region.
According to Norwegian retailer Spillsjappa (via GameZone), the NES Classic is only going to be available until the end of April. After that, the system will allegedly cease production. There will supposedly be no further releases of the device when it comes to Nordic countries and it seems that Nordic Nintendo importer Bergsala AB has discontinued its license for distribution. The final deliveries of the console will be made. After that, any customers still waiting for the system will be informed that, unfortunately, it won't be happening for them.
NES Classic Edition Availability: What about other regions?
It's unclear just yet if this means a similar shortage of NES Classic units for the entirety of Europe or even if there will be any spillover to other Western markets. However, this could be the first sign of impending doom for the system — if this rumor is indeed true. 
Only time will tell how true this is and what countries it will affect. So if you did end up snagging an NES Classic, you might want to hold on to it for now.
More Nintendo news and updates
The NES Classic may be coming to an end, but we're still excited to get our hands on the Nintendo Switch. Check out our previous coverage on the console's price, release date, pre-orders and battery life. If you're interested in the Nintendo Switch's games, here's info on the new Super Mario Odyssey game, Legend of Zelda: Breath of the Wild, Splatoon 2, Xenoblade Chronicles 2, 1-2-Switch and the goofy boxing game Arms.