Here's the history of undocumented immigrants working for President Trump's companies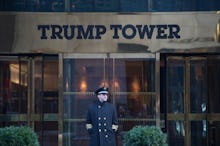 President Donald Trump has vowed to deport up to 100 million undocumented workers. Trump claims that such immigrants drive up crime (they don't) and take jobs away from Americans (they don't). It's ironic, then, that Trump himself has relied on undocumented immigrant labor in the past.
Trump Tower
The most glaring example is Trump Tower, the 58-story crowning jewel of Trump's real estate empire. According to court records, back in 1980, Trump employed undocumented Polish workers to demolish the building that occupied the site where he would erect Trump Tower. 
According to Time:
The men were putting in 12-hour shifts with inadequate safety equipment at subpar wages that their contractor paid sporadically, if at all. A lawyer for many of the Poles demanded that the workers be paid or else he would serve Trump with a lien on the property. One Polish worker even went to Trump's office to ask him for money in person, according to sworn testimony and a deposition filed under oath in a court case.
Trump has long acknowledged that undocumented workers helped build Trump Tower, but he continues to deny he knew about it at the time. Senator Marco Rubio of Florida, who ran against Trump in the Republican presidential primary, needled the developer over the workers in a primary debate back in February, 2016. In response, Trump suggested that the workers had been hired and paid by a subcontractor without his knowledge.
Records indicate otherwise.
According to testimony and depositions, Trump was personally involved in hiring the workers and paying (or, more accurately, not paying) them.
Court records show Trump approached the workers directly in 1979 and asked them to demolish the Bonwit Teller building, which occupied 725 Fifth Ave. before Trump built Trump Tower. After the owner of the company that employed the workers skipped out of town — and the Poles complained — Trump promised to pay them himself. He kept his promise at first, but soon the bills began to pile up. Some of the workers went to an attorney, who threatened to place a lien on the building, effectively halting construction. Trump then turned to a labor relations expert, who advised to fire the workers. Instead, Trump (or one of his employees) called the workers' lawyer posing as a "Mr. Barron" and threatened to sue.
Further, Trump has reportedly been using undocumented workers as recently as two yeas ago: Construction workers at the Old Post Office, which Trump renovated into a hotel in 2015, told the Washington Post they were in the country illegally.