Stephen Miller: What to know about Trump's controversial senior adviser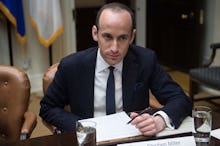 Stephen Miller — the the senior adviser who wrote Donald Trump's angry inauguration speech and helped craft his Muslim ban — appeared on four Sunday morning talk shows last weekend to parrot the president's as-of-yet baseless claims that a "massive" number of people voted illegally in the 2016 election, as well as to trash the courts for taking power that belongs "squarely in the hands of the president" and boast about the administration's achievements. 
"The president of the United States has accomplished more in just a few weeks than many presidents do in an entire administration," Miller said on Face The Nation.
President Trump took a quick break from his Twitter feud with Mark Cuban and his endless whining about the media to give Miller a pat on the back for a job well done.
Here's what you need to know about the 31-year-old senior adviser.
Stephen Miller's background
Miller attended Duke University, where he reportedly worked with white nationalist glass jaw Richard Spencer on the Duke Conservative Union. Miller rose to prominence during the school's 2006 lacrosse scandal, when he made frequent appearances on cable news to defend the white players falsely accused of raping an African-American woman. 
Before teaming up with Trump, Miller worked as an aide to former Rep. Michele Bachmann and as the communications director for then-Sen. Jeff Sessions.
"Political radicalization" began early.
The summer before he entered high school, Miller reportedly stopped talking to a childhood friend, Jason Islas. "I can't be your friend anymore because you are Latino," Islas recalled Miller telling him during an interview with Univision.
From that point forward, Univision reported, Miller "stood out as a contentious and provocative student whose conservative and ultra-nationalist politics put him continuously at odds with teachers, administrators and students" at liberal, multicultural Santa Monica High School.
Privately and in the media, a teenage Miller mocked the children of immigrants who did not speak English, took umbrage at the existence of a gay club at the school and attempted to "sabotage" a school committee to help African American and Hispanic students, according to Univision.
"He wanted to sabotage us," said Oscar de la Torre, a school board member. "He confronted everyone, denying that racism existed. He said that was a thing of the past."
Later, at Duke, he wrote columns for the student newspaper condemning multiculturalism, the so-called War on Christmas and feminism. He also described the beloved poet Maya Angelou as being full of "racial paranoia," and helped Spencer put on an on-campus immigration debate featuring white nationalist Peter Brimelow. 
"He's the most sanctimonious student I think I ever encountered," John Burness, Duke's former senior vice president of public affairs and government relations, told the News & Observer earlier this month. "He seemed to be absolutely sure of his own views and the correctness of them, and seemed to assume that if you were in disagreement with him, there was something malevolent or stupid about your thinking. Incredibly intolerant."
He's helping to drive Trump's "America First" agenda.
With chief strategist Stephen Bannon, Miller has helped motor the Trump administration's nationalistic agenda. He helped write both the president's "American carnage" inauguration address and his dark acceptance speech at the Republican National Convention. He also reportedly played a key role in crafting Trump's executive orders on immigration.