Here's what private prisons stand to gain from Trump's criminal justice agenda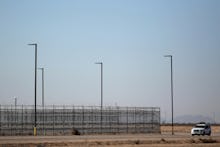 President Donald Trump's promise to deport around 11 million undocumented immigrants was met with horror from some corners. But for the companies that build and run America's private prisons, it was cause to celebrate.
Of the 193,000 Americans behind bars, about 22,000, or 11%, are in private facilities. Such facilities mainly house inmates referred to as "criminal aliens" — "noncitizens convicted of crimes, many of whom may be deported at the end of their sentences," according to The Marshall Project. And about 65% of detainees held by Immigration and Customs Enforcement are held in private, for-profit facilities.
In August 2016, President Barack Obama's administration announced plans to end the federal government's reliance on private prisons, citing a report by the Office of the Inspector General that found private prisons were more dangerous than those run by the Bureau of Prisons. Then-Deputy Attorney General Sally Yates — whom Trump recently dismissed — instructed officials to either "decline to renew" private prisons' contracts or to "substantially reduce" their scope, the Washington Post reported.
Within days of taking office — and after the Geo Group, the world's second-largest for-profit prison company, donated $150,000 to a pro-Trump super PAC — Trump reversed course on private prisons. In an executive order issued Jan. 25, Trump ordered homeland security to "take all appropriate action and allocate all legally available resources to immediately construct, operate, control or establish contracts to construct, operate or control facilities to detain aliens at or near the land border with Mexico."
Stocks surge
Investors saw Trump's electio as a boon for private prisons. The day after Trump was elected, CoreCivic, the world's largest private prison company, saw its stock jump 40%. The GEO Group rose 30%, Businessweek reported.
"The reality is, DHS is not going to have the ability to detain all these folks," David Inserra, a homeland security policy analyst at the conservative Heritage Foundation, told The Daily Beast. "You have to rely on the private contractors."
On its website, CoreCivic — which changed its name from Corrections Corporation of America in November — claims to be the nation's fifth-largest corrections system, behind the federal government and three states. It stands to become much larger if Trump is fully able to implement his plan.
According to McClatchy, Trump's plan will require the Department of Homeland Security to double or triple the $2.2 billion it spends on detention annually. That money would go to build and staff new jails and prisons.