Is 'Horizon Zero Dawn' Multiplayer? What to expect from the new action RPG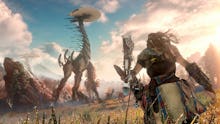 Horizon Zero Dawn is a gorgeous new action-roleplaying game developed by Guerrilla Games. It's scheduled to land on PlayStation 4 as an exclusive on Feb. 28. Aside from what looks to be an explosive and insightful single-player campaign, there are plenty of new characters and new worlds to explore as well. But will you be able to play with others as you make your way through the new world with protagonist Aloy?
Is Horizon Zero Dawn multiplayer? 
Unfortunately, there are no current plans for Horizon Zero Dawn to include multiplayer modes. This has been confirmed by Guerilla's executive producer Mark Norris, who discussed the topic in an interview with IGN Latin America (via GamingBolt).
Norris revealed that there won't be a multiplayer component for the game because it conflicts with the "core experience" of the game. Here's the full quote:
There are questions as to why a multiplayer will not do. The reality is that we are putting together a new IP. We are making a new franchise for the first time in 10 years and what we really want to do is improve the experience for the player. When you get to face these machines as Aloy, with this great character, who is the real star of the story and everything that happens, have this connection with her, what happens when you add the elements of multiplayer? You play as a supporting character? How does that work?
Norris went on to explain that the mode was actually ruled out pretty early on in the game's development period. Of course, that doesn't mean this decision couldn't change in the future, possibly with an update or even a sequel after Horizon Zero Dawn has enjoyed its time in the limelight. Norris had this to say:
It is an action RPG with a single player experience. I think we're similar in that way, we want this to be the story of Aloy. Although a multiplayer mode is great and maybe we can think of something for the future, we want Horizon Zero Dawn's story to be about Aloy and it's going to be fantastic when you play it.
We'll have to see how Horizon Zero Dawn fares when it hits store shelves later this month exclusively for PlayStation 4. 
More gaming news and updates
For more gaming news, check out the latest from Mic. Here's the most up-to-date information on the Pokémon Go Valentine's Day event, a story about Steve Bannon's history as a backer for a shady World of Warcraft gold farming operation, tips and tricks for League of Legends' Blood Moon event mode and an opinion piece on whether the Overwatch character Mercy needs a drastic rework.