'Injustice 2' Mobile Release Date: iPhone app download launches early in one country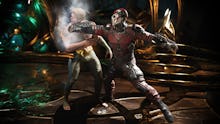 Injustice: Gods Among Us is getting a sequel in the form of Injustice 2 on May 16. When games like that — especially fighters — release new iterations, it's usually a safe bet that a mobile version is on its way, too. 
That's definitely the case with Injustice 2, which has a brand-new mobile app confirmed to be hitting devices in the near future. When can you get your hands on the version from the App Store or a possible APK for Android? Mic's got you covered with those answers and more. 
Injustice 2 Mobile Release Date: When to look for the App Store download
Currently, the Injustice 2 app is unavailable in territories outside the Philippines, where it soft-launched via TouchArcade on the Philippines App Store. Rather than updating the original Injustice: Gods Among Us app, Warner Bros. and NetherRealm opted to create the new game, and players in the Philippines are able to try it first. 
There's been no official word yet on when the rest of the world will get its hands on the Injustice 2 app, but given the fact that it's been soft-launched elsewhere, there shouldn't be much of a wait for other territories to download the game. It will be a free-to-play endeavor, and if you can't wait, you're welcome to create a Philippines iTunes account to see what it has to offer. 
Soft launches are very much a normal phenomenon. Pokémon Go soft-launched in both Australia and New Zealand a few days ahead of its July 2016 release, only to launch worldwide not long after, according to a Reddit post from Android developer POQA_TJ.
Given the average timelines from games that enter soft-launch periods outside of North America, we shouldn't have too long to wait — possibly a couple of weeks or a month. It's hard to say for sure, but as soon as we see that it's available, we'll let you know. 
More fighting game news and updates
While you wait for more Injustice 2 character reveals, read more fighting game news on Mic. Find out more about Super Smash Bros. for Switch, the Injustice 2 roster, the Tekken 7 console release date, what to expect from Marvel vs. Capcom: Infinite and the Evo 2017 lineup.