Here are all the reporters Trump called on in press conferences. Notice anything unusual?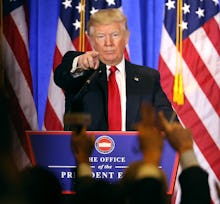 During his four press conferences, President Donald Trump has shifted from taking questions from reporters at centrist media outlets to openly conservative publications. 
At Wednesday's press conference with Israeli Prime Minister Benjamin Netanyahu, Trump took two questions from reporters at right-leaning media outlets. That's part of a pattern: of the nine reporters Trump has called on, only two were from centrist news organizations. The rest hailed from conservative or right-wing media.
Here is a list of all the journalists Trump has called on. 
Press conference with British Prime Minister Theresa May on Jan. 27
Steve Holland, Reuters — Holland, a long-time White House reporter, asked the lead-off question at Trump's first press conference as president, wondering about Trump's then-upcoming conversation with Russian President Vladimir Putin and whether Trump would lift sanctions on Russia. 
Tom Newton Dunn, the Sun — Dunn has been the politics editor for the conservative British tabloid since 2009. He is one of several journalists Trump has called on who work for publications owned by Rupert Murdoch. 
John Roberts, Fox News — Another Murdoch employee at the right-leaning cable channel, Roberts has long experience covering the White House. He asked Trump about America's relationship with Mexico. 
Press conference with Japanese Prime Minister Shinzo Abe on Feb. 10
Daniel Halper, New York Post — The former online editor of the neoconservative Weekly Standard and now the Washington bureau chief for the Post, another Murdoch-owned right-leaning publication, Halper was the author of Clinton Inc.: The Audacious Rebuilding of a Political Machine. The day after a bombshell Washington Post story revealed Flynn has lied to Vice President Mike Pence, Halper asked the president for comment on the court ruling that continued the stay on his executive order. 
Blake Burman, Fox Business News — He did not ask about Flynn either, instead opting to ask a follow-up about the executive order and fighting terrorism. You guessed it: Murdoch owns Fox Business too.
Press conference with Canadian Prime Minister Justin Trudeau on Feb. 13
Scott Thuman, WJLA-TV — The Chief Political Correspondent for a D.C. based ABC affiliate asked Trump where he saw his relationship with Trudeau going. That came earlier this week as questions about Flynn continued to mount. WJLA's parent company struck a deal with Trump's campaign to share the then-candidate's interviews without commentary in exchange for better access during the campaign.
Kaitlan Collins, Daily Caller — Another journalist from a conservative publication, Collins regularly appears on Fox News. She asked Trump, "What do you see as the most important national security matters facing us?" 
Press conference with Israeli Prime Minister Benjamin Netanyahu on Feb. 15
Katie Pavlich, Townhall — The editor of a website that calls itself the "top source for conservative news," Pavlich asked Trump about what compromises the Israelis and Palestinians would have to make to meet peace. 
David Brody, Christian Broadcasting Network — The White House correspondent for a network chaired by Pat Robertson, an icon of the Christian right and a Trump supporter who stood with him through 2016's most turbulent moments, Brody asked Trump how fallout from Flynn's resignation would affect the Iran Nuclear Deal.
Neither reporter asked Trump for comment on reports that Trump's campaign had ongoing communications with Russian intelligence during the 2016 election. Then, Trump ignored shouted questions from reporters on that topic as he left the room.