'Diablo 3' Primal Ancient Items Release Date: Why fans are upset with Blizzard's update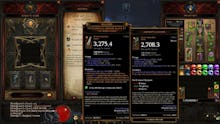 Blizzard recently announced the impending arrival of a new item rarity in Diablo 3. The Primal Ancients will be making their way to Diablo 3 by way of patch 2.5.0, which offers additional features like the Armory and Crafting Mat Storage. If you're a PC player, you can try these updates via the public test realm and then head to Blizzard's public test forums to discuss your findings. 
A group of players have already done this and are taking issue with the Primal Ancients. Here's why.
Diablo 3 Primal Ancient items release date: Fans' beef with upcoming updates
Fans were skeptical when the Primal Ancient items were announced. The entire Diablo community was awash with feedback, much of it coming from the Diablo 3 forums and subreddit. One forum user going by the name Thanatos argues the Primal Ancients aren't "special" enough in term of the game's big picture.
Others players are more concerned with how rare these items will be and the idea they may be unable to get the perfect roll to obtain them; still others offered suggestions to improve the Primal Ancients' implementation. Here's one such argument from forum user Japhasca: 
How about, though, Blizzard tweaks 'Reforge Legendary' so it can't downgrade the tier of legendary that an item possesses? Just getting an ancient (or soon, a primal) that you want can be a frustrating ordeal, but getting just the right rolls? How frustrating was it when the ancient you wanted finally dropped and it was garbage?
Several similar complaints were posted to the Blizzard forums. The company appears to be taking them seriously, with community manager Tyvalir responding directly to individual posts.
Diablo 3 Primal Ancient items release date: Blizzard's response
On the forums, Tyvalir posted the following message to explain the new changes to the Ancient and Primal Ancient items that will be seen in an upcoming PTR patch: 
Rather than increase the power they give you beyond Ancient items, Primal Ancients will now instead roll perfect Ancient-level stats tailored to the character class you're playing when the item first drops. Re-rolling any of these at the Mystic will also yield only perfect rolls.
Blizzard has clearly been paying attention to complaints from the Diablo 3 community, even offering its own improvements based on that feedback. The overall update to introduce these Primal Ancient items is still pending, but it's unclear if these promised changes will mean a longer wait before the new features are officially released.
More Diablo 3 news and rumors
Mic has all the latest Diablo news, including updates on when we might be able to expect the Necromancer's appearance, Diablo 3's recent anniversary patch and more.