NYU postpones speech by Twinks4Trump creator, White House correspondent Lucian Wintrich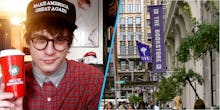 A talk at New York University by Lucian Wintrich, part of the White House press pool and creator of the Twinks4Trump art project, has been postponed by the NYU Division of Student Affairs, according to a social media post from the school's College Republicans group. In the post, the group claimed they had invited Wintrich to talk about his career and work in the White House. 
"Unfortunately, the NYU antifa decided he's a fascist because he likes to take pictures of male models with MAGA hats, and they have threatened to shut down the event," the College Republicans wrote. "The administration is not canceling the event, but has required us to postpone to give them more time to prepare to deal with mass disruption and harassment from antifa, so we've lost our speaker for this week."
Wintrich also blamed NYU's anti-fascist group for his event's postponement. 
"Maybe half an hour after antifa called for protest the NYU administration said they needed to delay a month to get security in place," Wintrich said in an email. "I find it disheartening that a small collection of hapless anti-intellectuals would delay a political gay speaker in his 20s; homophobic and fascist groups like antifa make a mockery of the decadeslong work and civil rights battles that trans women of color fought so hard for us to have." 
According to NYU Local, a student-run blog, the talk was scheduled for Thursday, less than two weeks after protest on the campus when conservative actor and Vice Media co-founder Gavin McInnes addressed the College Republicans. McInnes ended up being pepper sprayed. Reuters reported 11 people were arrested. 
In a statement to NYU Local, NYU vice president of student affairs Marc Wais said the school had notified NYU's College Republicans that it postponed the event because they lacked the time to get security in place for Wintrich's visit. 
Wintrich said he did "secure some security" for the event, according to the Tab, an international college news website with branches in the U.S. and U.K.
After College Republicans blamed NYU antifa for the talk's postponement, the group responded on its Facebook page, claiming that, rather than their influence, the event being moved is a sign that NYU was nervous to have Wintrich on campus after the McInnes event. 
In a statement to Mic, NYU Against Fascism denied having any hand in the postponing of Wintrich's event. 
"Our group hasn't made any public call to disrupt his appearance," the group said. "In fact, we feel that Wintrich, a self-described 'brand strategist and digital creative,' is opportunistically using the threat of an exaggerated 'antifa retaliation' to increase his visibility." 
News of Wintrich's postponed talk comes less than two weeks after protests at the University of California, Berkeley, ahead of right-wing provocateur Milo Yiannopoulos' talk as part of his "Dangerous Faggot" tour. Yiannopoulos has courted controversy for his bombastic speeches on several of the tour's stops, including in Milwaukee, where he mocked a transgender woman sitting in the audience. 
NYU's College Republicans and the NYU Division of Student Affairs did not immediately respond to a request for comment. 
Feb. 15, 2017, 10:11 p.m.: This story has been updated.