Trump and leaks: Is the president's threat to catch intelligence leakers realistic?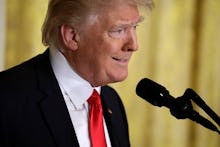 President Donald Trump used to be a big fan of leaks. In 2016, then-candidate Trump heaped praise on Wikileaks for publishing hacked emails from the Democratic National Committee, and even suggested Russian hackers should "find" Hillary Clinton's "missing" emails. And, since 2010, Trump has pushed a debunked conspiracy theory that climate change researchers doctored data based on leaked emails.
Nowadays, Trump is faced with what some have described as the leakiest administration in decades. On Monday, former General Michael Flynn, who Trump appointed as national security adviser, resigned after it was revealed that he had misled Vice President Mike Pence about whether he had discussed relaxing sanctions against Russia after Trump took office with the Russian ambassador.
Two days later, on Feb. 15, Trump claimed on Twitter that "the real scandal" wasn't that Flynn had been discussing sanctions with Russia before Trump took office, but that "classified information is illegally given out by 'intelligence' like candy." Today, on Twitter, Trump said leakers would be caught.
But what, if anything, can the president actually do about leaks coming from his White House or from intelligence agencies?
Fast and furious
He's already tried the easiest solution: act so quickly that there's no time for anything to leak — but it didn't turn out the way Trump likely wanted. In January, Trump signed an executive order suspending immigration from seven Muslim-majority countries. The order was drafted in such a rush that Secretary of Homeland Security Gen. John Kelly learned about it at the same time as the American public--when he saw his boss sign it on TV, the New York Times reported; it was also, according to their reporting, issued with "little or no legal review." 
According to CNN, the Department of Justice's Office of Legal Counsel also wasn't shown the order before Trump signed it. Had Trump let a lawyer look over the order, its chances in court might have been better. Instead, the order came under an immediate legal barrage, with a federal judge suspending its enforcement and a federal appeals court upholding her ruling. The White House has promised a new, more legally sound order is forthcoming.
Go full Nixon
Besides reckless speed, the president has other tools at his disposal: Rep. Devin Nunes, a California Republican, suggested the president might have his administration stop communicating via email (though, of course, Nixon never sent an email in his life and his White House leaked like a sieve, too).
Fox News' James Rosen suggested the president might, like Nixon, simply bypass the bureaucracy altogether. As Rosen noted, that approach, too, has downsides:
Yet the Nixon-Kissinger approach also led, directly or indirectly, to a number of negative outcomes: the wiretapping of 17 National Security Council aides and newsmen; the establishment at the Pentagon of a spy ring that pilfered Kissinger's briefcase and "burn bags," collecting 5,000 classified documents over a 13-month period; and the pair of illegal break-ins, undertaken by a leak-plugging group that called itself "the Plumbers," that triggered the Watergate scandal that ultimately toppled Nixon from office.
Legal threats
There are a number of legal options at Trump's disposal, as the law blog Lawfare reported. Under the Espionage Act of 1917, sending "information respecting the national defense" is illegal. The Supreme Court has interpreted the phrase broadly to include, as Lawfare noted, "sensitive information relating not only to the military, but also to national security more generally." 
Leakers can also be prosecuted under the general theft statute, which makes it illegal to steal "any record, voucher, money or thing of value of the United States or of any department or agency thereof." But the courts disagree over whether it's necessary to physically take records in order to violate the statute, or whether simply transmitting information is enough.
Finally, Trump could try to force everyone in his White House to sign nondisclosure agreements. In April, he told The Washington Post that he planned to ask high-ranking officials in his administration to sign such agreements, and members of his transition team did sign such documents. 
To force White House employees to sign NDAs would require review by the Office of Personnel Management. "I don't think OPM would allow it, and I think it would be clearly improper," Robert Passman, a founding partner at Passman & Kaplan — a Washington, D.C., law firm specializing in federal employment law — told the Daily Beast.