'Diablo 3' Patch 2.5.0 Release Date: When to expect the new update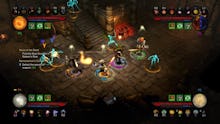 Diablo 3's upcoming update, patch 2.5.0, will bring several different augments with it, such as new Primal Ancient items, the Armory, Crafting Mat Storage and a swath of other improvements. But when is patch 2.5.0 coming out? Here's what we know so far. 
Diablo 3 Patch 2.5.0 release date: When will the update hit?
Diablo 3's 2.5.0 patch is available right now for testing via the PTR servers, but the patch has yet to receive a release date just yet. As mentioned in our guide to the changes PC players would see from patch 2.5.0, however, it's reported that Blizzard has confirmed the previous patch notes had yet to be finalized and would be going through changes before the patch was live for everyone. 
There have been several changes to the patch notes, including the following text added to the Primal Ancients as of Tuesday:
These items are much more rare than Ancient items and have perfect Ancient-level stats on all affixes, including the item's Legendary Power
This is an indication that patch 2.5.0 may be on its way out to users soon as developers have had a chance to examine and take into account player feedback about the Primal Ancient items. 
When there's a concrete release date set in stone, we'll keep you updated, as well as news on the game's season 10 updates when they roll out.
More Diablo 3 news and rumors
Mic has all the latest Diablo news, including updates on when we might be able to expect the Necromancer's appearance, Diablo 3's recent anniversary patch and more.