'Pokémon Go' 1.27.2 Hack: Gen 2 cheat lets you play from the couch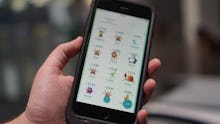 Pokémon Go changes are coming in hot, and with the release of over 80 new Pokémon, players are looking for ways to augment their experience. You'll need to play the game correctly for the most part if you want to get the most out of it, but a new hack for Pokémon Go version 1.27.2 makes it possible to cheat your way through Pokémon Go Gen 2.
Pokémon Go 1.27.2 Hack: Everything we know
The Pokémon Go 1.27.2 Hack relies on a special iOS .IPA file or Android .APK file that you'll need to find online and download to your device. You'll want to make sure you're using devices that will allow you to sideload apps, meaning a jailbroken iPhone or a rooted Android device. Be advised that this hacked version of the game could very well brick your device or cause some other kind of damage — so proceed with caution and definitely back up your phone first.
If successful, the hack should allow you to get all the new Gen 2 Pokémon in a much quicker and easier manner than ever before. According to Redmond Pie, you can walk your avatar around the world using a joystick instead of actually walking around in the real world. This means you don't have to leave your house to look for Pokémon. You can also customize the speed, according to BGR, and you can even choose between walking, riding a bike or driving without worrying about the in-game warning usually triggered by faster methods of transportation.
You can also set waypoints that will help you get where you want to go. The cheat will even find Pokémon along the way for you, giving you a chance to go hunt them down. Additionally, this Pokémon Go hack offers advice on which Pokémon you should spend your time trying to catching.
The hack is also sneaky in that it contains special mechanics meant to keep Niantic from knowing that you're cheating. Still, using this hack really takes the fun out of the game, and it's probably not worth the risk of bricking your device or getting banned from Pokémon Go entirely.
More Pokémon Go guides, tips, tricks and updates
Check out Mic's guides on how to get stardust, how to determine how long it will take you to reach level 40, the kind of Pokémon you get from 10km eggs, how to create new PokéStops, how to maximize your chances of catching Pokémon and how PokéStops distribute Pokémon eggs. Also check out how to catch Gen 2 baby Pokémon, our analysis of post-balance update Chansey and Rhydon and everything you need to know about finding the long-awaited Pokémon Ditto.