Stephen Colbert creates stirring tribute to faux Swedish terror attack on 'The Late Show'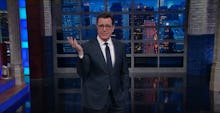 Not sure if you've heard the news, but nothing happened in Sweden over the weekend. And yet, President Donald Trump spoke about a faux terror attack in the Scandinavian country during a rally on Saturday in Florida. "You look at what's happening last night in Sweden," he said. "Sweden, who would believe this?" 
"Well, not no one, but maybe someone who skips their intelligence briefings," Stephen Colbert quipped during Monday night's episode of The Late Show. The host explained to his audience that nothing happened, and while Trump clarified that he was basing his alternative fact on a Fox News report, he was still unceremoniously dragged by Sweden's official Twitter account. 
As Colbert noted, the Fox News report Trump was referencing also falsely stated that the crime rate in Sweden has increased thanks to an influx of immigrants. However, Sweden's crime rate "has fallen since 2005." 
"In fact, experts say 90% of Swedish crime actually occurs in The Girl With the Dragon Tattoo," Colbert added. "Clearly, Trump believes everything he sees on TV is real, which would explain his next tweet: 'America is a disaster! Our girls are broke! Our dead are walking! The pope's too young! It's a scandal! #Shameless.'" 
Frankly, a lot has been said about things that haven't happened. There was the "Bowling Green massacre" in Kentucky, as well as a terrorist attack in Atlanta that never occurred. Now we have to remember all we didn't lose in Sweden over the weekend, so Colbert produced a sobering tribute video called "Never Fjorget" in the country's honor. It included such Swedish staples as Swedish Fish, ABBA and IKEA furniture. 
Watch the segment below: 
Mic has ongoing coverage of TV. Please follow our main TV hub here.