5 facts you should know H.R. McMaster, Trump's new pick for national security adviser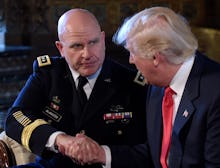 On Monday, President Donald Trump named Lt. Gen. Herbert Raymond "H.R." McMaster as national security adviser. McMaster, a respected veteran of the Persian Gulf and Iraq wars, replaces retired Gen. Michael Flynn, who resigned amid scandal last week.
Here's what you need to know about McMaster.
A soldier's soldier
First, he's well-regarded by the military establishment. In an interview with Newsweek, Lewis Sorley, a military historian and West Point graduate, described McMaster as "a brilliant intellectual and a man of absolute integrity." CNN's Peter Bergen called him "the smartest and most capable military officer of his generation." Even Sen. John McCain (R-Ariz.), a frequent critic of Trump on national security, called McMaster "an outstanding choice."
Critical of Vietnam
Second, McMaster's a lieutenant general in the U.S army. He graduated from West Point in 1984, but he entered the spotlight in 1997 with the publication of his book, Dereliction of Duty. In it, McMaster excoriated the top military brass of the Vietnam era, arguing they allowed themselves to be sidelined and manipulated by then-Secretary of Defense Robert McNamara, leading to the eventual loss of the war.
Critical of Bush
Third, McMaster also criticized the George W. Bush administration for its handling of the Iraq war. It was "pretty clear the planning for the war in Iraq was inadequate," McMaster said, according to Defense One. He has also called the planning for both the Iraq war and the war in Afghanistan "narcissistic."
No civilian bureaucratic experience
Fourth, McMaster has never held a civilian position of this nature, which may prove to be a liability as he inherits a National Security Council dealing with the loss of its leader of less than a month and an inexperienced, tempestuous commander in chief. As the New York Times reported:
Most of the National Security Council staff is composed of career professionals, often on loan from military or civilian agencies, and they have complained privately about being shut out of their areas of expertise and kept in the dark about important decisions. Mr. Trump's aides look on many of those holdovers from the last administration with suspicion, blaming them for leaks. The atmosphere has grown so toxic that some council staff members have said they feared they were being surveilled.
No friend to Russia
Finally, he's no ally of Russia, which is likely comforting to those with suspicions about Trump's connections to the country. During a talk at the Center for Strategic and International Studies in Washington last year, McMaster described Russia as a growing threat to the west and accused it of propping up right-wing parties in Europe.