Nintendo Switch Account ID: How to get the User ID you want right now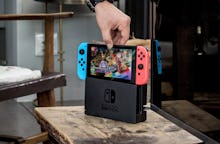 Nintendo's online account system — along with its Nintendo Switch account ID setup — is poised to be a more meaningful and useful way to tie your accounts and your purchases online together. The new user ID will be used much more like the Xbox's Gamertags or the PlayStation network IDs. 
However, the process for ensuring you have all your boxes ticked to get a Nintendo Switch account ready for the upcoming console can be confusing. Here's what you need to make sure you're ready for online interactions with the Nintendo Switch.
Nintendo Switch account ID: Nintendo Accounts and user IDs explained
If you're confused by the differences between the two services, just think of your Nintendo account as your base level online Nintendo account. Essentially, you log in with this name via your email address and can change your account nickname, your Nintendo network ID and your Nintendo account user ID from here. 
Your Nintendo network ID is something else entirely. It was previously used with the Wii U and 3DSto connect your Nintendo network ID to your Nintendo account, which let you share eShop Wallets. It still didn't let you share games through accounts, however, which the Switch is poised to allow you to do. 
The Nintendo user ID is going to be used for interactions online with the Switch moving forward. As such, you'll want to make sure you choose the username that you want to lock in before someone else gets it.
Nintendo Switch account ID: How to set your Nintendo User ID
If you've played Miitomo on your mobile device or simply paid attention to Nintendo's recent attempts at revamping its online service, you've probably already created a Nintendo account, which is the basis for your interactions online with Nintendo. If you've already made one, simply log in with this link. If you haven't created one, you'll want to head over to this page to create one and get started.
If you've used an online Nintendo service before, you probably already have a Nintendo account. Log in via this page and check out your user profile. Near the bottom of the page, you'll see a "User ID" field. If you haven't set it yet it will be blank with the words "user ID" there, as illustrated in the red box above. Click "edit" to choose your new username. Once you've done that, you're finished. You appear to be able to go back and change it at any time, so happy username swapping!
More Nintendo Switch news
Check out more details on the Nintendo Switch, including information on the console's price, release date, pre-orders and battery life. If you're interested in the Nintendo Switch's games, here's info on the new Super Mario Odyssey game, Legend of Zelda: Breath of the Wild, Splatoon 2, Xenoblade Chronicles 2, 1-2-Switch and the goofy boxing game Arms.