These millennial leaders are getting involved in DNC politics and they're backing Ellison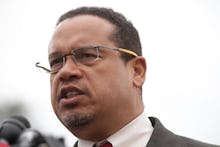 A broad, multiracial coalition of progressive millennial leaders on Wednesday endorsed Rep. Keith Ellison (D-Minn.) for the chair of the Democratic National Committee. They hope that he will make the party establishment more inclusive of the movements they are powering.
The coalition, which includes backers of Hillary Clinton and Bernie Sanders' presidential campaigns, organizations affiliated with the Black Lives Matter movement and organizers of the Women's March on Washington, said Ellison, a black Muslim representing Minnesota's Fifth Congressional district in Minneapolis, has tapped into their demographic in a way that others haven't.
"We believe he can activate the millennial base of the party by working with the movements we have powered," the coalition wrote in an endorsement letter published Tuesday night on Medium.
On Saturday, the DNC will choose a new leader during its winter meeting in Atlanta, in a vote that will undoubtedly signal the direction of the party in the wake of Clinton's upset defeat at the hands of Donald Trump. The former committee chair, Rep. Debbie Wasserman Schultz (D-Fla.), was forced to resign in July 2016 over a scandal involving hacked emails showing the party favored Clinton over her primary opponent Sanders, an independent senator from Vermont who caucuses with Democrats. 
The young leaders think Ellison is well-positioned to address some of their concerns about the Democratic Party, which has, for instance, faced criticism over positions it has taken on criminal justice and policing issues raised by the BLM movement.
"As millennials, we are the future of the Democratic Party and in order to ensure a sustainable, winning coalition, we need a chair who will unite the party ... We need a chair who will prioritize a 50-state plan to build grassroots organization, drive massive voter registration and ensure that the ballot is accessible to young people and people of color," the letter reads. "We want a chair who will fight to win a democracy for all and overcome the profound crises of our time — from catastrophic climate change to systemic racism, historic economic inequality to perpetual war."
A spokesman for Ellison did not immediately respond to Mic's request for comment Wednesday morning.
The more than 200 signatories on the letter include Linda Sarsour, the national co-chair of the Women's March on Washington; Umi Selah, co-director of the social justice group Dream Defenders; and several representatives of the progressive political action committee MoveOn.org.  Although this endorsement letter includes various leaders from the Movement for Black Lives, the leaders said the letter is not a Black Lives Matter Global Network endorsement of a DNC chair candidate.
Dante Barry, executive director of the Trayvon Martin-inspired social justice group, Million Hoodies, said millennials leaders have united around Ellison because he represents so many of the progressive base's priorities under a Trump administration. "At a time when it is critical to have fighters to defend and protect our communities, we believe that he will bring energy to the left to oppose Donald Trump's harmful agenda and win electoral seats at the local, state and federal levels," Barry said in an email.
The endorsement of a candidate as party leader signals an increasing embrace of conventional political processes, particularly for the Movement for Black Lives. During the 2016 election, some activists held off from making full-throated endorsements of Clinton, even after she clinched the party's presidential nomination. Others, such as prominent BLM movement activists Deray Mckesson and Brittany Packnett, offered their endorsements after meeting with the candidates.
The pending DNC chair election got Trump's attention on Wednesday morning. He tweeted an ambiguous approval of Ellison, who he said predicted his White House win.
Ellison, 53, was elected to the House of Representative in 2007 as the first Muslim member of Congress. He's just one of over a half dozen candidates vying take leadership of the Democratic Party. Other candidates include former Obama administration labor secretary Tom Perez, who has been endorsed by former Vice President Joe Biden; Eric Holder, the former U.S. attorney general; Pete Buttigieg of South Bend, Indiana, who has been endorsed by former DNC chair Howard Dean; Sally Boynton Brown, executive director of the Idaho Democratic Party; and South Carolina Democratic Chairman Jaime Harrison.
Sanders and Sen. Elizabeth Warren (D-Mass.) gave their endorsements to Ellison in 2016. 
The millennial coalition cited Ellison's belief that "any winning formula for the Democratic Party means to build a vision and an agenda that will speak to working class people of all races," as part of their decision to endorse him as the next chair.
"At a time when it is more important than ever to have true fighters defending our democracy, our lives and our communities," the coalition's letter concluded, "he will bring new energy to the Democratic Party."
Feb. 22, 2017, 6:00 p.m. Eastern: This story has been updated.