'League of Legends' 7.4 Patch Notes: Cho'gath rework, Festival Anivia and more updates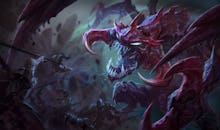 Riot Games' patch notes for League of Legends 7.4 are out in the wild, and there's a massive changelog following its release. Arguably, the most important changes are Cho'gath's rework, a brand new upcoming skin for Anivia (which is absolutely gorgeous) and a few champion alterations for the game going forward. Here's a roundup of some of the changes to expect from the patch going forward — and check out our roundup of Patch 7.3 if you haven't seen it already.
League of Legends 7.4 Patch Notes: Cho'gath update
There are massive changes in store for Cho'gath. Patch 7.4 essentially makes the massive beast even bigger, with the Feast ability now able to stack against enemies without limit.
Here are the full details from the patch notes:
Feast can stack infinitely against champions and epic monsters, and stacks no longer fall off on death. Feast's ability power ratio down; bonus health ratio added. 
League of Legends 7.4 Patch Notes: Other champion updates
League of Legends 7.4 has an entire bushel of changes for a fairly long list of champions. To keep things simple we've included everything from the patch notes below about each champion. Check the list to see what will be changing in terms of increases or decreases once the update hits.
Bard
League of Legends 7.4 Patch Notes: Additional updates
The long-awaited Practice Tool and Low-Spec mode will now become available as of Patch 7.4, according to Riot Games: 
[NEW] SICK (CPU) GAINS :: Enabling Low-Spec Mode now automatically closes the client once you've made it through champ select, focusing more of your machine's precious resources on the match at hand. If you enable this mode, you'll notice that it takes a few seconds longer to get to the end-of-game screen after your game ends. That's because a background process has to automatically re-launch the client. It's gonna look a bit like your client is exploding when this happens, but we intend to keep working on this feature to make it less jarring.
League of Legends' 7.4 Patch Notes: Festival Queen Anivia skin
In the way of new skins, Festival Queen Anivia's skin (seen above) will release and can be purchased for 975 RP. Check out the absolutely stunning splash art if you need a little assistance deciding if you want to make a purchase or not. That's probably a given. Just look at it! 
League of Legends 7.4 patch release date
League of Legends Patch 7.4 will be released on live servers on Feb. 23 at 3 a.m. Pacific for North American players. There is a delay, according to PCGamesN, thanks to the Presidents Day holiday on Monday, but you can check out the server maintenance page for additional updates about scheduling for the region you live in.
More gaming news and updates
For more gaming news, check out the latest from Mic. Here's a cool video of an augmented reality Portal game, a guide to playing Fire Emblem Heroes on your PC or Mac, a review roundup for the brutal action game Nioh and the latest information on preordering the Nintendo Switch.