Trump Deportations: Latest on Trump Administration's crackdown on undocumented immigrants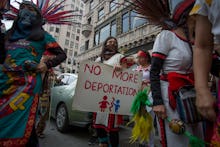 On Tuesday, President Donald Trump's administration took its harshest stance yet on illegal immigration as the Department of Homeland Security released two memos detailing its intent to ramp up its deportation of undocumented individuals, sparking fears of mass deportations. 
In the wake of the memos' release, White House press secretary Sean Spicer sought to allay fears about their impact. He denied the threat of "mass deportations," saying that Trump simply wants to "take the shackles" off government officials handling deportations "and say, 'You have a mission, there are laws that need to be followed, you should do your mission and follow the law.'"
The Department of Homeland Security also sought to downplay the widespread reach of the sweeping new policies, emphasizing that while there would be measures taken, their power has its limits.
"We have limited resources and we will, to the extent that we absolutely can, focus on cartel members, gang members, folks who committed serious crimes," a DHS official said on a call with journalists, Politico reported. "But the fact that you're not a priority does not exempt you from the potential of enforcement. I would just say that realistically speaking, there are obvious limits to what we can and can't do on a daily basis."
The DHS, the official continued, "doesn't have the resources to go into communities and start rounding people up. That's entirely a fiction of folks' imagination."
But immigration advocates are preparing for the worst when it comes to the new policies, which they say expand the scope of which undocumented immigrants can now be targeted and deported. Much remains to be seen regarding how the policies will be implemented. It's unclear, for instance, whether "Dreamers" previously covered under the Deferred Action for Childhood Arrivals program will be targeted, or if the "sensitive locations memo," which prohibits ICE officials from capturing immigrants at schools, hospitals and churches, will remain in place.
"Based on those memos, everybody (who is undocumented) is a target; there's no longer prosecutorial discretion," Angelica Salas, executive director of the Coalition for Humane Immigrant Rights of Los Angeles, told the Los Angeles Daily News. "And they're expanding their forces all out in order to detain and deport as many people as possible, with the possibility of over 8 million people being ... part of this dragnet."
Democrats in the U.S. Senate are speaking out against the new policies. Senate Minority Leader Chuck Schumer called the memos "a mass deportation plan" that Democrats would oppose, and pledged that Senate Democrats would "continue fighting for what is right."
"We can all agree that violent criminals should be removed, but it is outrageous and unacceptable for ICE to target or arrest innocent immigrant families contributing to our nation and working to achieve the American Dream," Schumer said, according to the Washington Examiner. "This is a waste of limited resources, disrupts our economy, does nothing to keep us safe and makes everyone a target, causing panic within the immigrant community."
California Sen. Kamala Harris described the policy as "outrageous and extreme," the Los Angeles Daily News reported. She said the Trump administration is "going backward" in its approach to immigration. The senator has introduced a bill in response to Trump's recent executive orders, which if passed would guarantee legal counsel to those who are detained while entering the country.
Jennie Pasquarella, the immigrant rights director of the American Civil Liberties Union of California, told the Daily News the ACLU is also "looking for legal action" and preparing for a fight in the face of these mass deportations.
"We're doubling down to make sure we can respond to these accounts as they come forward and represent people and challenge the legality of the arrests when they took place," Pasquarella said.
Still, immigrants and the communities in which they reside fear the worst and are preparing for it in kind. For instance, Chicago public schools have directed parents to add backup emergency contacts for their children in case they get detained. In an interview with NBC News, DACA recipient and Bolivian immigrant Elvis Saldias said that the undocumented immigrants he knows are "fearful" and are "cutting back on everyday things like driving, going to the grocery store and going to a bigger city to go shopping."
"I think they are otherwise law-abiding people," Saldias said. "And the new administration is broadening the scope so much, they are under threat and they are afraid of coming out (into public areas) even a little bit."