SodaStream recall affects more than 50,000 bottles that may explode, company warns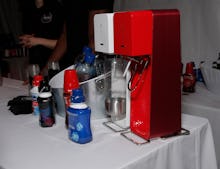 Love your water with a little fizz? Alas, a leading brand of DIY beverage carbonation devices, SodaStream, announced Tuesday it was recalling thousands of bottles because they may burst under pressure.
No injuries were reported as the announcement, but SodaStream and the Consumer Product Safety Commission said the bottles could explode while under pressure, causing injury to users or bystanders.
Recalled bottles may become combustible during the carbonation process, when the user creates fizzy soda by infusing carbon dioxide with water held inside the SodaStream plastic bottle, according to the announcement.
The recall includes 51,000 bottles sold in the United States and 7,600 in Canada.
Not sure if you own one of the recalled bottles? Check for the words "SodaStream" and "Dishwasher safe" printed on bottles with a blue cap and blue bottom base. Also, bottles with the expiration date "4/2020" printed on the warning label are included in the recall.  
If you are still unsure if your bottle is on the recall list, SodaStream also has an online checklist to help you discern between recalled and safe bottles.
SodaStream is offering about a $15 refund for all recalled bottles purchased at Bed Bath & Beyond, Target, Walmart, as well as online retailers like Amazon and SodaStream from February 2016 through January 2017.
Sign up for The Payoff — your weekly crash course on how to live your best financial life. Additionally, for all your burning money questions, check out Mic's credit, savings, career, investing and health care hubs for more information — that pays off.