Meet Liz Jaff, the DNC vice chair hopeful urging Democrats to embrace grassroots movements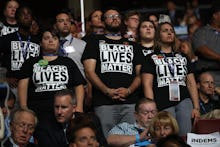 Liz Jaff, a veteran Democratic campaigner and candidate for vice chair of the Democratic National Committee, says she's got nothing to gain from trading her hard-earned grassroots credentials for establishment politics.
Her decision to run is not about her — it's about pushing the DNC toward embracing the social and racial justice groups that she and others believe are the future of the Democratic Party. Should she win, Jaff wants the Black Lives Matter movement, the Women's March on Washington organizers and other millennial grassroots movements to be center stage in a party that previously wrote them off or took them for granted.
"It's so infuriating when people ask, 'Why don't millennials get involved?'" Jaff, 31, said in a phone interview Wednesday. "That's not true — we've just been working outside of the system, online where it made more sense to us."
That'll change Friday, Jaff said. She and others have organized a convening of anti-Trump resistance leaders at the DNC's winter meeting in Atlanta. They also invited a handful of DNC chair candidates and rank-and-file DNC members for a collaborative dialogue. It would be the first time that both sides have sat down formally to discuss the way forward after devastating party losses in 2016 — and it has the potential to be a tense exchange, Jaff said.
"I think people are going to hear something they don't want to hear, but I think it's going to be real and very good," she said.
According to an announcement shared first with Mic, BLM co-founder Alicia Garza and Women's March national co-chair Bob Bland are confirmed to participate in the Friday luncheon hosted by Jaff and moderated by Katharine Zaleski, co-founder and president of the group PowerToFly.
On Saturday, DNC members will vote on who will become the chair and vice chair of the party. The vote will undoubtedly signal the direction of the party, following Hillary Clinton's defeat by Donald Trump. The previous DNC chair resigned in July 2016, over a scandal involving emails showing party officials favored Clinton over her primary opponent, independent Vermont Sen. Bernie Sanders, who caucuses with the Democrats.
In the interview, Jaff said she's pushing the Democratic Party to make the party's data on voters, elections and fundraising open source, to facilitate greater grassroots representation and easy access in the establishment. 
Jaff, an Atlanta-born, Johannesburg-raised campaigner and alumna of the Obama campaigns, drew her inspiration from her great-aunt Helen Suzman, a liberal member of the South African Parliament, who opposed apartheid and fought Nelson Mandela's imprisonment. Jaff said she believes the Democrats can't innovate if they neglect to include the priorities of anti-Trump protest organizers.
In the last couple of years, millions of protesters have taken to the streets on the strength of organizing efforts by BLM, immigrant leaders and, most recently, Women's March organizers. "We keep saying, 'the DNC needs to do this, the DNC needs to do that,'" Jaff said. "We need to realize that we are the DNC and we have to help change it. We have to help bring them into whichever area we need to be in."
On Wednesday, a coalition of millennial leaders endorsed DNC chair candidate Keith Ellison. But Jaff said her event at the winter meetings is not an endorsement of any of the handful of candidates running to lead the party. It's an effort to harness that enthusiasm to change the party status quo.
"This is a time for us to learn from each other," Jaff said. "Of course, I want to shake things up. I'm not telling you that we're going to fix everything. But I'll be damned if I stand to the side."