'Ghost Recon Wildlands' Beta End Date: Open beta start time, maps and everything to know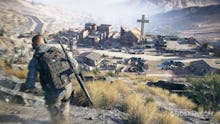 The Ghost Recon Wildlands open beta is gearing up to begin, and it will be available to all players who want to jump in and get started. It's an early way to experience what the upcoming shooter has to offer, and if you're interested you can play on PC, PlayStation 4 and Xbox One without having to use a beta key or anything special. If you're interested in playing, here's when you can hop in and how long you can play before the beta is over.
Ghost Recon Wildlands open beta: Start and end times 
According to Ubisoft the open beta is set to begin on Feb. 23 at 6 a.m. Eastern (3 a.m. Pacific, 11 a.m. Mountain and midnight Central). It will be available through Monday, Feb. 27 at 6 a.m. Eastern for your gaming pleasure.
Ghost Recon Wildlands open beta content
If you decide to take part in the Ghost Recon Wildlands open beta, you will be able to play on two different regions out of 21. That includes Itacua from the closed beta and a new region called Montuyoc. Both will be available in the beta.
If while playing you decide to pick up the full game before March 31, you will also unlock an extra mission in-game called the Unidad Conspiracy when the full game releases on March 7 for PC, PlayStation 4 and Xbox One, according to VG247.
More gaming news and updates
For more gaming news, check out the latest from Mic. Here's a collection of cute Overwatch-inspired Valentine's Day cards, 15 photos that compare the Nintendo Switch to the Wii U, a beginner's guide to For Honor, and a deep dive into the new trend of Nazi-punching video games.