New Trump Travel Ban: What does Trump have planned next?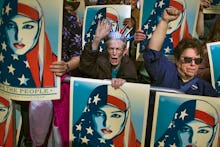 President Trump's administration plans to issue a new travel ban executive order sometime this week, it said, after a previous order was blocked by Seattle judge and a federal appeals court in early February.
Trump's first travel ban, signed Jan. 27, was labeled a "Muslim ban" by critics because it targeted migrants from seven Muslim-majority countries: Iran, Iraq, Libya, Somalia, Sudan, Syria and Yemen. The ban met fierce opposition, sparking protests in cities across the country and nearly two dozen lawsuits before it was put on hold by a judge.
Much of the chaos surrounding the ban came down to the speed with which it was issued. The New York Times reported that Trump signed the ban before showing it to the Department of Homeland Security or the Department of Justice for review. Secretary of Homeland Security John Kelly reportedly learned of the ban when he saw Trump signing it on television.
The Trump administration has promised a "more streamlined" version of the order. Here's what we know so far.
No change in countries
For one, it will apply to the same seven countries that the original order did, according to a draft version of the order obtained by the Associated Press. White House adviser Stephen Miller said the new ban would result in "the same basic policy outcome" as the original. 
The American Civil Liberties Union, which successfully challenged the original order, replied to Miller on Twitter that it would have "the same basic response."
Exemptions for green card holders
Unlike the first order, the revised order won't apply to green card holders (permanent residents who are not citizens), neither will it apply to those who've already been issued work visas to travel to the U.S. nor those in the air when the order is signed, according to multiple media reports. 
The ban on green card holders proved highly unpopular across the board the first time around. Among others, Iraqi translators who'd assisted the U.S. Military during the Iraq war were barred entry, causing an uproar. The order also left those who'd boarded planes expecting to receive entry to the U.S. stranded in airports or detained by DHS agents.
Secretary Kelly also said that, unlike with the first order, there will be "a short phase-in period" aimed at reducing confusion and chaos, two points cited as concerns by courts that reviewed the order.