'Pokémon Go' Nest Migration 15: How to track changing spawn locations after the update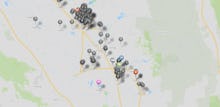 Pokémon Go's latest nest migration — number 15 if you're keeping track at home — has occurred. The Silph Road has confirmed that it is here, and that means it's time for players to join together again and discuss the changes to Pokémon spawn locations in the game. 
You'll probably want to find out about all the new Pokémon nests and where they appear since they've been reset. You can do this by utilizing The Silph Road's Global Nest Atlas feature, which is supported by Pokémon hunters who go out into the wild and report on what they find, along with other players who work to verify that data.
Pokémon Go Nest Migration 15: How to use the Global Nest Atlas
If you try to find where all the Pokémon you want to find are using just your app, you probably won't get very far. You'll want to use the Global Nest Atlas, created by the diligent Pokémon Go community, to find the changes spurred forward by Nest Migration 15. You can head here to register, which you will need to do if you want to end up contributing. 
As of Nest Migration 15, several users are reporting various changes in The Silph Road mega thread on Reddit. You can check the thread to report your own local changes in addition to adding them to the Global Nest Atlas. Happy Pokémon nest hunting! 
More Pokémon Go guides, tips, tricks and updates
Check out Mic's Pokémon Go tips and tricks. Here are guides on how to get stardust, how to determine how long it will take you to reach level 40, the kind of Pokémon you get from 10km eggs, how to create new PokéStops, how to maximize your chances of catching Pokémon and how PokéStops distribute Pokémon eggs. Also check out how to catch Gen 2 baby Pokémon, our analysis of post-balance update Chansey and Rhydon and everything you need to know about finding the long-awaited Pokémon Ditto.