CNN DNC Debate: Here's how the Democratic candidates performed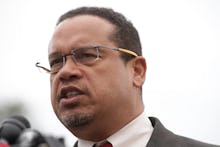 On Wednesday night, contenders to lead the Democratic party met in Atlanta to trade barbs on CNN. On Saturday, one of them will be chosen to lead the party, much reduced after Donald Trump's defeat of Hillary Clinton in the presidential election and the GOP's retrenchment in Congress. 
Compared to the explosive debate performances that launched President Donald Trump from a joke to a household name and eventually the Oval Office, Wednesday night's debate was a muted affair. (Full transcripts are available here and here.)
At the front of the pack are Tom Perez, who was secretary of labor under President Barack Obama, and Rep. Keith Ellison (D-Minn.). Perez and Ellison were joined by six others.
But the spotlight stayed mostly on Perez and Ellison, whose battle to lead the party mirrors the bitter showdown between Sen. Bernie Sanders (D-Vt.) and former Secretary of State Hillary Clinton for the Democratic presidential nomination in 2016. Perez endorsed Clinton (and his name was floated as a possible choice for vice president), while Ellison was an early Sanders supporter.
Perez vs. Ellison
Ellison's election would be an olive branch to the Sanders wing of the party, which remains bitter after Clinton's loss to Donald Trump last November. Perez, meanwhile, has the backing of most Democratic groups, including the DNC caucuses for Asians, Hispanics, rural Americans and women.
Pete Buttigieg, the mayor of South Bend, Indiana, who also seeks the chair, cautioned the party against pitting the more liberal Sanders wing against the more centrist Clinton faction. "This idea that this is going to be a factional struggle between the Bernie wing and the establishment wing is missing the point," he said. "We've got to take it to the real opposition, which is the Republicans."
Though there was no clear standout, the soundbite of the night probably belonged to Ellison, who suggested the party should seek to impeach the president. "Donald Trump has already done a number of things which legitimately raise the question of impeachment," he said. "The day people checked into his hotel and started paying him who were foreign dignitaries, he was in violation of [the emoluments clause]."
Perez, meanwhile, said the party needed to "take the fight to Donald Trump."
Both men stressed the need to focus on down-ballot races. "We have got to win up and down the ballot, from the dog-catcher all the way up," Ellison said.