Tidal's visual EP '17' invokes Trayvon Martin to send a powerful message about race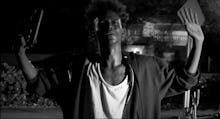 Five years after Trayvon Martin was killed by a vigilante in Florida, his mother, Sybrina Fulton, is still telling the public that her son was a good kid. She has said Trayvon didn't deserve to be profiled, followed and ultimately gunned down by George Zimmerman, the self-appointed neighborhood watchman who said he thought the hoodie-wearing 17-year-old was casing a Sanford, Florida, gated community for burglary.
Racial violence and police brutality, the underlying issues in Trayvon's case, are explored in the visual EP 17, a release by Jay Z's music streaming service Tidal and Sankofa.org, the social justice organization founded by civil rights icon Harry Belafonte. The short film, accompanied by four original songs from the artists Ty Dolla $ign, Raphael Saadiq, Mali Music and Elijah Blake, was exclusively released Feb. 17 on Tidal and became widely available Friday.
The visual EP sends a stunning and powerful message about race in America — that even before black boys and teenagers reach adulthood, they learn that the world sees and treats them differently from their white peers. Too often, they learn that lesson violently, 17 co-writer and director Gerard Bush said in a phone interview.
"The overall message is the carnage facing African-Americans, black and brown youth across the country," Bush said. "Hopefully, we are amplifying the issue taking place from a point of empathy."
Bush's writing and directing partner, Christopher Renz, said in the phone interview they set out to catalyze a dialogue with the visuals. "We're just presenting this 17-year-old kid and saying, 'how do you view this kid versus the way his family and his community view him?'"
17 is arranged in four acts, so to speak, with a song and theme accompanying each section. In the first act, titled "Innocence," viewers are introduced to 17-year-old Jacobe, played by Jordan Grizzle. He is shown holding what looks like a handgun, but quickly turns out to be a water gun he uses during a pool party with his friends and a younger brother.
The second act, titled "Daydream," humanizes Jacobe even further. It shows him embracing his mother and navigating the prospects of attending college on a scholarship, after high school.
In "Twilight," the third act, Jacobe finds himself with his back turned to police officers and his hands raised in the air. Just before he is shot by police, the 17-year-old is shown again with the handgun, an apparent symbol for how law enforcement and the public may see him as a threat. The fourth act is titled "Resist."
The visual EP ends with a long list of names — victims of police and vigilante violence, many of whom have not become household names.
The project represents the second time in the last year that Belafonte's organization partnered with Renz and Bush for a social justice PSA. In October, Sankofa.org released "Against the Wall," a short film about racial profiling that featured cameos from Danny Glover, Van Jones, Michael B. Jordan, Michael K. Williams and Marc Lamont Hill, among others.
"It is always so inspiring to work with artists who are passionately committed to learning more about the injustices taking place in communities across our country, and to helping elevate the voices of society's most disenfranchised," Gina Belafonte, co-executive director of Sankofa.org, said in a statement.
'Hopefully this visual EP will inspire more artists to use their massive cultural influence and followings to shine a light on issues of political and moral urgency," she added. Watch it here.