In one chart, see how strict the concealed guns laws are in your state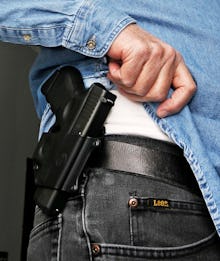 Kansas — where on Thursday night two Indian men were shot, one fatally — is one of only a handful of states that does not regulate the concealed carry of firearms at all.
There's no federal statute that covers when it is and isn't permissible to carry a weapon, so all 50 states have passed laws governing where and when it's allowed. 
Some states, like Kansas, require no registration at all to carry a concealed firearm. Others, like California, are more restrictive.
Concealed carry across the U.S.
The following chart, populated by data from the Law Center to Prevent Gun Violence, highlights what the gun restrictions are across all 50 states:
The FBI is investigating Thursday's shooting as a possible hate crime, the New York Times reported. According to one witness, the shooter, identified as Adam W. Purinton, yelled "get out of my country" before opening fire, the Kansas City Star reported.