The best burns from Gordon Ramsay on Twitter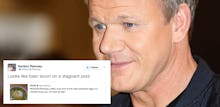 Gordon Ramsay isn't famous for being a chef. Sure, he's the first Scottish chef to win three Michelin stars and, despite his fame, maintains an impressive roster of Ramsay-branded restaurants across the globe, but the man's cooking isn't what made him the highest-earning chef in the world. 
Nope, to earn an annual salary of $60 million, you have to be a personality unlike any other, and Ramsay has established himself as a foul-mouthed, egregiously forward yet somehow still charming chef who has won the hearts of a gaggle of international fans. 
With more profanities and insults up his chef's jacket than television credits (several seasons of Hell's Kitchen, Masterchef, Kitchen Nightmares and more stack up on his resume), Ramsay has earned himself yet another credential to add to his ever-growing list of personal accomplishments: Twitter troll. 
Those not lucky enough to compete on a reality competition judged by the harsh, sweaty, swear-spewing Ramsay are sadistically asking for their cooking criticisms on Twitter. And Ramsay happily delivers. Missed some of Ramsay's best Twitter burns? We've rounded them up for you. 
Cremated chicken
Ramsay could use a copy editor though... 
Granny panties sandwich
Granddad Ramsay stored food in weird places, but OK. 
Poop humor
That description is enough to put you off food — any food. 
Rude RSVP
They probably didn't even want Ramsay there anyway  — he'd ruin the mood. 
Hopeless cafeteria
Is Betsy DeVos Ramsay's social media intern? 
Hideous foot puns
What's wrong with sitting back with your feet up to enjoy a plate of wings?
Not into the trends
Sure, rainbow bagels look like toys, but this is actually pretty impressive if some amateur made it. 
Parenting lessons
Good call though on the sour cake for kids. 
Pasta confusion
That's just embarrassing. 
Toxic noodle soup
That soup was supposed to be the best!
Backhanded compliment award
No comment on the pineapple meat? 
Ageist
Sadly this is a restaurant dish. 
Trump inspired
Does Ramsay have a political career ahead of him?