George W. Bush's criticism of Donald Trump breaks a longstanding precedent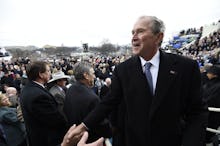 Former President George W. Bush took aim, albeit indirectly, at President Donald Trump in a rare interview with Today's Matt Lauer Monday morning. In so doing, Bush broke a longstanding tradition of former presidents not criticizing sitting commanders in chief.
During a brief, televised sit-down, Bush defended the mainstream media, one of Trump's favorite punching bags, and he called for answers to questions about the Trump team's alleged ties to Russian intelligence officials.
Bush notably refrained from publicly criticizing President Barack Obama, who campaigned on a largely anti-Bush platform.
"Indispensable to democracy"
Overall, Bush remained optimistic about Trump's prospects as president. "First of all, there's only been one month in office," he said. "He's got four years. Secondly, I think have to take the man for his word that he wants to unify the country, and we'll see whether he's able to do so."
But, Bush added, "It's hard to unify the country with the news media being so split up," Bush told Lauer — an apparent reference to the explosion of digital media in the last decade and a half. "... Now there's all kinds of information being bombarded out and people can say things anonymously."
Asked if, during his presidency, he ever considered the mainstream media to be "the enemy of the American people," as Trump has claimed, Bush said: "I consider the media to be indispensable to democracy. We need an independent media to hold people like me to account."
Trump, too, has criticized the use of anonymous sources in media reports, despite the fact that, before becoming president, he posed as his own spokesperson and relied on anonymous sources to question Obama's birthplace.
Bush also raised the specter of Russian President Vladimir Putin. One of the the things he spent a lot of time doing as president, he told Lauer, "was trying to convince a person like Vladimir Putin, for example, to accept the notion of independent press."
Freedom House, an independent watchdog group, has rated Russia's press "not free" every year since 2003.
"We all need answers"
Bush's mention of Putin spurred Lauer to ask about reports that some senior Trump officials, including former National Security Adviser Michael Flynn, were in contact with Russian intelligence officers during the Republican primary and general election campaigns. Many Democrats, and even some Republicans, have called for a special prosecutor to investigate the Trump team's alleged ties. Bush said the Senate Intelligence Committee should decide whether to call for a special prosecutor. But, he said, "I think we all need answers."