Trump's Speech to Congress on Feb. 28: Here's what to expect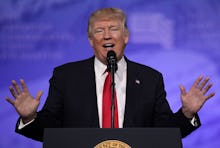 On Tuesday, President Donald Trump will address a joint session of Congress for the first time after an anarchic first month in office. It will be an opportunity for him to refocus the national conversation away from reports that senior members of his administration have ties to Russian intelligence officials and from his ongoing feud with the mainstream media.
In his first major speech as president, the former reality TV star will seek to frame his first 40 days in office as a success, despite setbacks to his immigration agenda, high-level resignations and a West Wing that leaks like a sieve.
"He's doing what he said he was going to do"
Trump will cast his actions so far as him checking items off a checklist, according to a preview of his speech circulated to reporters Monday morning. "One by one, President Trump has been checking off the promises he made to the American people. He's doing what he said he was going to do," the preview reads.
Unlike Trump's acceptance speech, which described an America descending into "carnage," on Tuesday he will paint a more "optimistic" vision for the country, according to the preview of his speech.
Trump will address reforms to the tax code. During the campaign, Trump said he would replace America's seven current tax brackets with four (0%, 10%, 20% and 25%), do away with tax loopholes for the very rich, eliminate the so-called "death tax," reduce the business tax rate to 15% and end deferrals for taxes on corporate profits earned overseas.
He is also expected to address regulatory reform. In January, Trump signed an unusual executive order requiring that, for every new regulation created by federal agencies, two must be slashed. While the full effects of the order haven't yet been felt, the agency most likely to be affected is the Environmental Protection Agency, which Trump has accused of throttling American businesses.
Obamacare replacement
The president will remind Americans of his promise to "repeal and replace" the Affordable Care Act, aka Obamacare. Upon assuming office, Trump vowed to repeal the law immediately, but intense pushback across the country has slowed that effort to a crawl, and it seems increasingly unlikely that Republicans will be able to repeal the law at all. Moreover, despite having called for its repeal since it was passed in 2011, Republicans have yet to agree on a replacement plan.
Trump will also push for major military spending. The president will ask Congress to pass a budget containing a 9% increase in spending on the military, Reuters reported. Cuts to the EPA, State Department and other non-military agencies will reportedly pay for the bump.
The talking points circulated by the White House made no mention of Trump's ongoing war against the mainstream media or of punishing leakers, two causes to which Trump has devoted an outsize amount of time in recent weeks, a likely indication he wants to shift the national conversation away from those topics.