#OurSonTrayvon: Celebrities remember Trayvon Martin five years after he was killed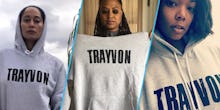 Trayvon Martin was shot and killed by neighborhood watch volunteer George Zimmerman on Feb. 26, 2012, in Sanford, Florida, when he was just 17 years old. Five years later, celebrities and organizers are hoping to ensure that the American public remembers Martin's name, life, death and legacy.
The #OurSonTrayvon campaign, created by image activist MichaelaAngela Davis and actor Gbenga Akinnagbe, was launched on the fifth anniversary of Martin's death as a project of Akinnagbe's Liberated People apparel line. A portion of the proceeds raised from the sale of hoodies designed by Akinnagbe and Davis will be shared with the Trayvon Martin Foundation, a social justice organization committed to ending gun violence founded by Martin's parents, Sybrina Fulton and Tracy Martin. 
"The goal of this awareness and fundraising campaign was not simply to commemorate the death of one of our sons, the state-sanctioned slaying of another black boy," Davis said of the commemoration. "But to honor the birth of the Movement for Black Lives, to bear witness that you cannot kill the black spirit or destroy the beloved community."
Martin was shot while walking from a convenience store to his home, carrying Skittles and a can of Arizona iced tea. He was without a weapon, but Zimmerman assumed Martin — a black boy donning a hoodie — seemed suspicious enough to follow and question. A short time after their encounter, Zimmerman shot Martin dead.
In July 2013, Zimmerman walked free after a jury acquitted him of second-degree murder and manslaughter charges. Outrage followed. Mass protests, calls for actions, disruptive acts, organizing bodies and a movement for justice was catalyzed.
Black-led social justice collectives like Black Lives Matter, BYP 100, The Dream Defenders and Million Hoodies Movement for Justice emerged after Martin's death.  
"We all started the new civil rights movement clock after Trayvon," Davis said. 
Five years later, the movement continues and influencers from across the U.S. used Sunday as a day to let us know why. Here are some of the people who want the world to know they will never forget #OurSonTrayvon.
Tracee Ellis Ross, actress
Ava DuVernay, film director 
Robert Glasper, record producer
Activist Tamika Mallory and her son
Marc Lamont Hill, scholar and activist 
Kerry Washington, actress
Gabrielle Union, actress
Issa Rae, actress and director
Regina King, actress
Alan Cummings, actor
Dwyane Wade, NBA player 
"The beauty of the support of such cultural influential figures is to illustrate that a red carpet does not divide us, no matter the privilege or platform we understand our collective blood is in this soil," Davis said.
Martin is no martyr. He was a black youth who deserved to live much longer than he did, but his legacy is one of the seeds of a movement for justice energizing a massive base of black people across the country. And that is the other side of the story of injustice Americans cannot forget.