Muslim philanthropist Abdul Sattar Edhi featured as Google Doodle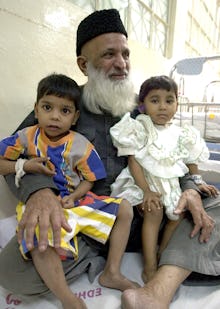 Google paid homage to Abdul Sattar Edhi, who had been dubbed the "Angel of Mercy" in Pakistan, on what would be the late Muslim philanthropist's 89th birthday.
"Today's Doodle honors Abdul Sattar Edhi, a global-reaching philanthropist and humanitarian who made it his life's mission to helping those in need," Google's statement read.
Edhi was born in Bantva, Gurajat, India before Pakistan's partition on Feb. 28, 1928. When Pakistan was formed in 1947, Edhi moved to Karachi where he dedicated his life mission to serve the poor and the most vulnerable. He was 20, and impoverished himself, when he begun his philanthropic work.
"I got medical students to volunteer," Edhi said in a 2009 NPR interview. "I was penniless and begged for donations on the street. And people gave."
Then three years later, in 1951, Edhi established the Edhi Foundation with only $500. The foundation, now surviving only on private donations, provides free 24-hour health care and social services. The Edhi Foundation also provides free shelter to women and the elderly. It also operates the world's largest volunteer ambulance service. There are over 1,800 Edhi Foundation ambulances across Pakistan, Al Jazeera reported.
"In my entire life I have driven no other car except my ambulance," Edhi said, according to Google.
The Edhi Foundation's slogan is "live and let live." It worked to help orphans and combat female infanticide. Edhi's orphanages helped save over 50,000 babies. According to Al Jazeera English, Pakistani law requires the father's name for official documentation and paperwork. Edhi would provide his name as the father to orphans, thus fathering hundreds of thousands of people. 
Despite Edhi's extraordinary humanitarian work, he never received a Nobel Peace Prize. To Edhi, that didn't matter.
"I don't care about it," Edhi told the Express Tribune, a major daily English-language newspaper in Pakistan, where he was dubbed "the richest poor man." "The Nobel Prize doesn't mean anything to me. I want these people, I want humanity." 
Edhi died on July 8, 2016, from renal failure. He was hailed by many as "Pakistan's Mother Teresa."
"[Edhi] always focused more on those around him than on his own comfort or needs," Google's statement read. "In fact, he and his family slept in a room near the foundation's headquarters and had only a few belongings. But his charitable empire and "family" were vast — at the time of his death, he and his wife Bilquis were registered as parents or guardians of tens of thousands of Pakistani children. 'My mission is to love human beings,' he said in an interview. Each day is the best day of my life.'"