'Middle-earth: Shadow of War' Mithril Edition Worth It? What you get with the $300 package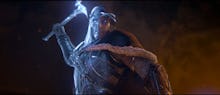 On Monday, Warner Bros. officially unveiled Middle-earth: Shadow of War, the long-awaited sequel to the 2014 open-world hit Shadow of Mordor. The game is set to launch on Aug. 22 and die-hard fans will have the option to pick up a special Mithril Edition for $300. But is it worth considering the $300 package? Let's find out.
Is the Shadow of War Mithril Edition worth it?
Shadow of War's ultra-expensive deluxe package, named after a mythical silvery metal in J.R.R. Tolkien's Lord of the Rings series, is the same price as the Nintendo Switch. Whether or not it's more robust than the Switch's launch lineup is debatable. So let's break down what's included: An image on the game's official website shows everything you'll get with the Mithril Edition.
All of this:
• The Gold Edition of the game (which comes with all of the planned DLC) in a steel case.
In other words, you get a lot of things that will take up shelf space without necessarily enhancing your game experience. Of course, if you're a huge Tolkien fan with $300 to spare, there's certainly plenty to admire in this package.
It's being sold exclusively at GameStop in the U.S. in limited quantities, so you better reserve your copy on the game's preorder page sooner rather than later. Obviously, you're spending $300 on a game you haven't even seen yet, but we can't tell you how to spend your money.
More gaming news and updates
For more gaming news, check out the latest from Mic. Here's the latest on Middle-earth: Shadow of War, along with 15 photos that compare the Nintendo Switch to the Wii U, a beginner's guide to For Honor and our review of Horizon Zero Dawn.