Trump HBCU executive order is a historic gesture for future of black colleges, leaders say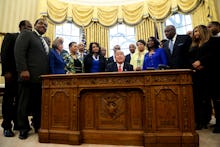 Some leaders and students of historically black universities and colleges are OK with the idea that their institutions may fair better under President Donald Trump than they did under Barack Obama, the nation's first black commander-in-chief.
They've already called Monday's Oval Office meeting and listening session on the financial and infrastructure challenges facing HBCUs with the vice president historic — something leaders haven't said about the dialogue they had with Obama. They'd asked Obama for larger funding commitments and better oversight of a HBCU initiative from the White House, and have made the same request of the Trump administration.
On Tuesday, leaders were granted one of their wishes. Trump signed an executive order that moved the initiative on HBCUs from the Department of Education to the White House but, according to the document, offered no additional funding for the schools, many of whom rely heavily on federal aid. But Trump reassured HBCU leaders that their concerns would be a priority for his administration.
"President Trump's executive order issued today is a significant and a positive first step in what we hope to be a productive working relationship," the Thurgood Marshall College Fund, an advocacy group representing dozens of HBCUs, said in a statement Tuesday after the order was signed.
"We look forward to working with the executive branch and the legislative branch to ensure the president's funding requests and the subsequent budget approved by Congress put the necessary resources into black colleges so they can continue doing the important work America needs them to do," the statement reads.
In interviews before Trump signed the order, HBCU leaders and the students they represent appeared to agree that their institutions also need guarantees of equity with predominantly white schools, even more than a photo-op during Black History Month.
"The messaging was consistent across the board that this president and his administration are committed to meaningful partnerships with HBCUs," said Rick Gallot, president of Grambling State University who was among the more than 60 HBCU presidents and administrative officials who attended meetings with Trump, Pence and other members of the Trump cabinet, including top strategists Stephen Bannon and Kellyanne Conway. Gallot and other HBCU presidents who attended the meeting said the White House did not share with them the exact language of the executive order before its release Tuesday.
"I felt a lot of optimism in the room as far as the opportunity for HBCUs to be a part of the conversation going forward," Harry Williams, president of Delaware State University, said in a phone interview Tuesday morning. "This is a process — and this is just one step in the process."
According to the U.S. Department of Education, the HBCU designation was established under the Higher Education Act of 1965. It defines HBCUs as schools that were founded before 1964, with the expressed mission being the education of black Americans, and that are accredited by a nationally recognized accrediting agency. The DOE's Title III budget allocates federal funds to institutions that are "educating underrepresented populations." But the amount of that funding has been subject to the discretion of Congress and the oversight of the education secretary.
In 2016, that funding amounted to nearly $324 million in grants for 99 HBCUs, according to figures kept by the DOE's programs office. That doesn't include the several hundreds of millions of dollars in Pell grants awarded to HBCU students annually.
The leaders asked the Trump administration to transfer the initiative out of the DOE purview into the White House and steer at least 5% of higher education spending on grants and 10% of government contracts to their institutions, Johnny Taylor Jr., president and CEO of the TMCF, said in a recent phone interview. Taylor's nonpartisan organization advocates for the interests of 47 publicly supported HBCUs, while others are represented by the United Negro College Fund and the National Association for Equal Opportunity in Higher Education.
"The whole point of [the meeting] was to raise the visibility and awareness and the importance of HBCUs in a post-civil rights era," Taylor said. "The intention was not just to say that they were historically black and relevant, but that they are currently black and relevant as well."
Beginning with the administration of former President Jimmy Carter, the White House has maintained initiatives that ensure HBCUs receive resources and recognition for their historic contributions to the education and wellbeing of African-Americans. But that hasn't always meant the schools survived or thrived financially, given that these institutions rely disproportionately on millions of dollars in grants and other federal support to stay afloat, Taylor said.
HBCUs received an average of 3.5% of all federal higher education funding during the Clinton and Bush administrations, according to the TMCF.  That portion slipped to 2.8% in 2013, because the Obama administration funneled a larger sum of the money into a general grant program in order to ease the financial burden of increasing tuition costs on all students, the Undefeated reported. For context, over seven years under Obama, the administration invested more than $4 billion in HBCUs through student aid, grants and contracts.
But the result of the funding shift under Obama meant some HBCU students either lost access to certain federal loans during the 2012 to 2013 academic year, transferred to community colleges and other predominantly white schools or dropped out of school. That infuriated supporters of black colleges.
The HBCU presidents went into the meeting with that funding reality top-of-mind, Taylor said. At Spelman College in Atlanta, for example, several millions in federal dollars from the Department of Education support faculty and student research, infrastructure and facilities, according to a letter released Friday from the office of Mary Schmidt Campbell, president of Spelman. More than half of Spelman students receive $36 million annually in Pell grants and other federally funded aid through the DOE, the letter states.
Campbell also said she would raise students' concerns about social and racial justice issues. "There are issues and programs, aside from funding, such as the immigration ban and policies related to diversity and inclusion, that impact Spelman's values and principles," she wrote. It's unclear if these issues were addressed in the meeting with Pence.
Walter Kimbrough, president of Dillard University in New Orleans, said he was disappointed with the listening session, which he said was cut short by the HBCU presidents' photo-op in the Oval Office. "I'm still processing that entire experience. But needless to say that threw the day off and there was very little listening to HBCU presidents today," he wrote in a statement posted to Medium on Monday. He said HBCU presidents were "only given about two minutes each" to speak to Pence and that only seven of the 15 or so selected speakers actually spoke.
Student representatives were not invited to attend the White House meetings, a decision that has angered some. Several activists at HBCUs, most notably those at Howard University in Washington, D.C., have demanded college presidents forgo meetings with Trump and secretary of education Betsy DeVos.
But some students see the meetings as necessary for the health of their institutions. "At this point, there is nothing we can change about it — Donald Trump is president," Howard University sophomore Tre Dawson, who supported the HBCU presidents' White House meeting, said in a phone interview Monday. 
"Rather than bashing [Trump,] what I'm worried about is the progression of my people," he said. "Whoever the president is, if he helps Howard, I'm happy."
Dawson added he was disappointed that current HBCU students were not a part of the vice president's listening session. "We really need a voice, so that we can really talk about the day to day of HBCU life, not just from the presidents' side," he said.
Brennan Wells, a recent graduate of Prairie View A&M University, a historically black school in Texas, said he found the HBCU presidents' request of the Trump administration "underwhelming" and only sufficient for satisfying the institutions' bottom lines. "Students needs a seismic shift in the way that the federal government engages with HBCUs," said Wells, currently an intern for the U.S. Department of Agriculture. "It's pennies on the dollar to what these students actually need.
"But considering what HBCUs went through under the Obama administration, steps forward are needed and necessary," Wells said.
Taylor, the TMCF president, said some student activists fail to realize that forgoing a meeting with Trump would have been against their interests. "If Republicans controls both houses of Congress and the White House, how can you afford not to engage them? That is tantamount to shutting our schools down."
Gallot, the Grambling State University president, said he had the expressed support of his students, faculty and staff to attend the meeting.
"These are the people who I serve," he said. "Those individuals who I serve wanted me to be where I was yesterday."