HBCU students worry their leaders are betraying schools' founding principles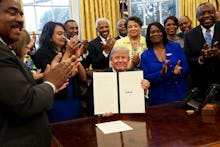 Hours before Donald Trump announced a new executive order aimed at better support of historically black colleges and universities on Tuesday, students at those schools were already disappointed.
Allyson Carpenter, president of Howard University's student association, was one of those students. 
"Maybe I'm too idealistic, but you're talking to a man who in his first 30 days tried to ban Muslims from this country, deported undocumented immigrants like it's a game," Carpenter said in a phone interview. "If you're in the room with the president and you're president of HBCU, it's such a wasted opportunity."
The disappointment stemmed not just from cynicism about the Trump administration's support of HBCUs to bolster its credibility in shaping urban education policy, but with the schools' leaders deciding to meet with Trump at all. Trump's executive order capped off days of publicized and surprise dealings between the president and leaders of HBCU schools across the country. In turn, students at those schools worry that the almost sacred principles of working in service of underrepresented communities that have sustained HBCUs for more than a century are in jeopardy.
"My job in this world is not to advocate for myself," Carpenter said about what she's learned while at Howard. "My obligation is to something bigger than me, the people I may never meet, the people who will never be in same rooms as I will be. 
"Considering all the people whose lives are being destroyed right now, there's no way the first thing I'm gonna say is that we have to better support HBCUs. HBCUs are beacons in our community [and] the role we should play is to represent those people who won't be in the room."
The disappointment was also palpable on social media. The day after the president of Howard University, Wayne A.I. Frederick, was photographed alongside Trump and several other HBCU presidents in the Oval Office, graffiti sprung up on the Washington, D.C., campus asserting that the decision to meet with Trump was tantamount to ushering the celebrated school back into the throes of slavery. 
"Welcome to the Trump plantation," someone scrawled in blue spray paint. "Overseer: Wayne A.I. Frederick."
Howard University did not immediately respond to a request for comment.
That anger wasn't only present on Howard's campus. Ame'a Crawford, 19, studies communications at Maryland's Bowie State University and was immediately suspicious of Trump's outreach to HBCUs. 
"During his whole campaign he did not care" about the black community, Crawford said. "[HBCUs] were built on integrity and if we agree with Trump, I just feel as if ... he's trying to [use] the black community."
Walter Kimbrough, president of Dillard University in New Orleans, also offered a critical look at the HBCU presidents' meeting with Trump. In an interview with NPR, Kimbrough acknowledged that the meeting provided a photo opportunity for Trump, and laid out out criticism of the meeting in a blog post on Medium. "You have basically under-resourced institutions that are the ones that are trying to serve the most under-resourced students and families. Investing in that program really can change generations," Kimbrough told NPR. 
Other HBCU leaders called Trump's executive order a historic investment in black colleges, despite the fact that no additional funding was mentioned in the order. But for students like Carpenter, this week has signaled a shift away from a prouder history. 
"The first black institution was the church, the second was HBCUs," she said. "People want to know what our university stands for and whether or not those values are something we're willing to compromise in a Trump era."