After Trump's joint address, Movement for Black Lives activists offer their own response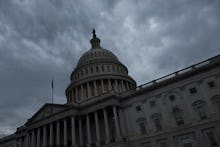 President Donald Trump has given his first-ever joint address to Congress, during which he pledged to unite the country around a "new chapter of American greatness." In the hour-long address, the president saluted Black History Month and called education a civil right.
But the speech also included troubling language about immigrants, "law and order" policing rhetoric and "America first" nationalist tropes.
In a Mic-hosted panel Tuesday night, titled "Adapt or Resist: A Response to President Trump's Remarks to Congress," Black Lives Matter co-founder Alicia Garza, Center for Community Change President Dorian Warren and Black Youth Project 100 National Director Charlene Carruthers are offered their perspectives on Trump's remarks and his sweeping policy proposals.
The panel was live streamed on Facebook, following the Democratic response to the president's joint address.
As prominent voices of the Movement for Black Lives, which includes the BLM Global Network and BYP 100, the panelists have been prominent voices leading the protest movement against state violence, anti-blackness and discrimination.
"One thing that was very apparent to me was the ways black people were being used [by Trump] as an excuse to force backwards immigration policy," Garza said during the panel.
Feb. 28, 2017, 11:28 p.m. Eastern: This story has been updated.