Trump Speech Video: Watch the president's Feb. 2017 joint address before Congress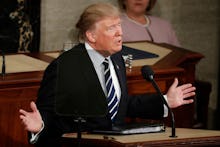 On Tuesday night, Donald Trump gave his first speech before a joint session of Congress. Though the content of the address was similar to the president's inaugural address, Tuesday night's speech struck a more hopeful tone. 
Watch below.
For the first time, the president mentioned the killing of an Indian engineer in Olathe, Kansas, last week, which police are investigating as a possible hate crime. "We are a country that stands united in condemning hate and evil in all its forms," Trump said.
The president stuck mostly to his script, listing a litany of problems he plans to fix: A diminished military, a sagging economy, sluggish job growth, dimming prospects for the middle class, "radical Islamic terrorism" (as Trump insists on calling it), trade deficits and so on.
By far, the most sustained applause came when Trump introduced Carryn Owens, the widow of Special Operator William "Ryan" Owens, a Navy SEAL who died in Yemen during a raid Trump authorized.