Here are the best and worst major airlines in the United States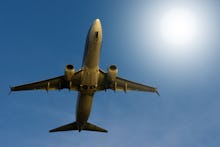 Ah, airline travel. The chariot to our tropical, dream vacation — or hell on Earth. Choosing which airline to go with is a delicate balance. No one airline has it all; each has its upsides and its downsides. Some carriers offer roomier seats, but subject travelers to unpredictable delays — others boast less lost baggage, but have higher ticket prices.
From 2015 to 2016, the number of airline passengers grew by 3.5%, according to the U.S. Bureau of Transportation Statistics, meaning airlines have increasingly more passengers to tend to. Growth in the industry could come with more choice — especially for travelers who do their homework.
To make that homework a little easier, ThePointsGuy.com took a look at what people loved and hated about some of the major players, examining a range of 2016 government studies and airline financial statements of the 10 largest domestic airlines in the U.S.
Factors in the PointsGuy ranking of airlines were — in order of importance — price (airfare and bag/change fees), convenience (route network, on-time arrivals, cabin comfort), headaches (customer satisfaction, lost baggage, involuntary bumps) and extras (frequent flyer programs, lounges).
The survey also compared the PointsGuy rankings to a 2016 survey by J.D. Power rooted in customer perception and opinions of airlines.
Here's the list of airlines, ranked from worst to best; check it out to see how high or low up your favorite came in.
10. Spirit Airlines
The good: Cheapest ticket prices
The bad: Ranked lowest in every other category
The only upside to this airline, according to the ranking, is that you can get some of the cheapest airfares in the country. But the good times seem to end there. Every other category — customer satisfaction, comfort, arrivals — put the airline in the "worst" position.
The last place ranking was no surprise to PointsGuy analyst Julian Mark Kheel, who said he anticipated Spirit would bring up the rear.
"However, Spirit led our study in lowest airfare," Kheel said in a phone interview. "Unfortunately, they came in dead last in four of our categories. The Spirit model is based on low airfares and not much else. The best way to fly Spirit is to know their rules on baggage and check-in fees for the best deal."
This means packing extremely light, since Spirit charges for carry-on bags and checking in online. And then there's that $10 fee for printing your boarding pass: Good thing you might have a holiday at the other end.
9. Frontier Airlines
The good: Low-priced tickets
The bad: Ranked lower in the other categories, though not as low as Spirit
Frontier Airlines came in at a solid number nine on both the PointsGuy and the J.D. Power surveys. "Frontier has a similar business model as Spirit, but based mainly in the West," Kheel explained.
Frontier scored high for inexpensive ticket prices, but then took a tumble in nearly every other category, offering no lounges and plenty of lost baggage and involuntary bumps. Just like with Spirit, if you know the rules, you can minimize fees, Kheel added.
8. Hawaiian Airlines
The good: Most on-time arrivals
The bad: Tiny route network
The primary reason why Hawaiian Airlines, which was not ranked by J.D. Power, landed at number eight is because of the limited route network. The airline only travels to and from Hawaii, which put them last in the route network category, Kheel explained.  
But the airline has the highest score for on-time arrivals, even if it is still a little pricey: "Because airfare was weighted as 25% of our analysis, Hawaiian Airlines came in toward the end," Kheel said, noting that ticket prices are more expensive because flights that travel solely to premium destinations trend higher.
7. Delta Airlines
The good: High on on-time arrivals, customer satisfaction, involuntary bumps, lounges and airline size
The bad: Expensive ticket prices
Delta Airlines came in toward the bottom on the PointsGuy survey, but it ranked higher on J.D. Power's, which put it at number four. The main reason for ranking lower is ticket prices, according to the PointsGuy. The airline ranks well for on-time arrivals, route network, customer satisfaction and involuntary bumps. But price — and fees — sunk Delta down to number seven.
"Delta's ranking came as a surprise to us," Kheel said. "They are running a good operation, but when you dive into the numbers, the problem is they are expensive." The airline ranked in the top three for on-time arrivals and involuntary bumps; it also has an expansive route network, too.
6. Southwest Airlines
The good: Low baggage and change fees
The bad: Expensive for economy seating  
Contrary to the J.D. Power survey, which ranked Southwest at number two, the airline came in at number six on the PointsGuy survey. Southwest had lower baggage and change ticket fees, but its higher economy-class ticket prices downgraded it a bit.
"Southwest has some enormous fans and scored high on customer satisfaction," Kheel said. "Unfortunately, they don't have the fanciest cabins and the cattle call boarding process can be frustrating to some. We also found that despite its reputation for being affordable, Southwest ranks up there with the big three airlines with regard to ticket prices. The airline used to be smaller, but now it's being run like a big airline, which impacts price."
5. American Airlines
The good: Largest route network of any airline
The bad: Negative customer service reports and lost baggage
American only got to number five because, despite its huge route network, the airline has poor customer service and high lost baggage reports. Involuntary bumps kept the airline grounded in the middle.
"We anticipated American would rank where they did," Kheel says. "Their biggest issues are on-time arrivals and their customer service score is pretty weak, with a high lost luggage record. What helped this airline in our study was that it serves the most cities and routes."
The airline recently announced the addition of no-frills "basic economy" seats in an effort to compete with the low-cost carriers.
4. JetBlue Airlines
The good: Positive customer satisfaction and lower baggage and change fees
The bad: Higher increase of getting bumped and less chance of being on time
Overall comfort, less lost baggage, low change fees and positive customer satisfaction ranked high for JetBlue. What brought the airline down to four was an increase in involuntary bumps and a decrease in on-time arrivals. Still, while the PointsGuy ranked JetBlue at number four, J.D. Power seated them at number one.
JetBlue is the only airline in the PointsGuy study to offer livestreaming individual TV service during flights, which travelers report as being a big benefit, Kheel said. "Plus, JetBlue was second from the top for least number of lost bags, and many travelers like the roomier economy section."
3. Virgin America Airlines
The good: Inexpensive ticket prices, less lost luggage
The bad: Smaller route network
For cheap airfare on a higher-rated airline, Virgin America wins hands down. The carrier boasts cabin comfort and less lost luggage — but, among the top 5, it got lower rankings on extras like lounges. Its current route network is smaller, as well.
One standout aspect of Virgin is the cabin interior, which Kheel described as pretty cool: "The neon-lit cabins and excellent entertainment were cited as being very positive amongst travelers," he said. "You can order food from your seat using the interactive TVs, which provide prerecorded movies and programs." 
2. United Airlines
The good: Consistent on baggage and change fees, convenience and extras
The bad: Negative customer service
"United's ranking was a surprise to some people," Kheel said. "The airline hasn't had the best reputation within the past two years, but it should be noted United wasn't ranked terribly in any one area of our study."
Although this airline didn't have standout ratings in any one particular category, United came in second due to its consistent rankings across the board. Even-keeled reports on comfort, route network and change fees positioned United at number two — however, J.D. Power placed United at number eight, in part because of negative reviews of customer service.
United is another carrier jumping on the basic economy fare seating, with plans to launch its program in April.
And as for the number one airline? Drumroll...
1. Alaska Airlines
The good: Ranks high on price, on-time arrivals, comfort, extras and minimal headaches
The bad: Smaller route network
Coming in at number one — the "best" airline — is Alaska Airlines, which received high marks in every category, ranging from on-time arrivals and low lost baggage to high customer satisfaction and a strong frequent flyer program. Nailed it.
The only small snag is the airline's less-extensive route network, which may be why J.D. Power placed them third. The PointsGuy reported that Virgin America and Alaska Airlines plan to merge, which could create a super-airline baby.
"This airline is known for running a good operation," Kheel said. "They came in the top four in more than half of our criteria, which includes on-time arrivals, customer satisfaction and its frequent flyer program."
Sign up for The Payoff — your weekly crash course on how to live your best financial life. Additionally, for all your burning money questions, check out Mic's credit, savings, career, investing and health care hubs for more information — that pays off.