4 takeaways from Trump's budget blueprint for 2017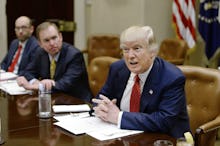 Presidents don't make budgets. Congress does that. But presidents can propose budgets. It's kind of like the White House saying, "Here's what I would spend the money on, if it was mine to spend." As Carl Hulse writes in the New York Times:
"Presidential budgets are important as statements of policy and budgetary goals. They stand mainly as political manifestoes of what the White House hopes to achieve — and would do if it had its own way."
Anyway, Donald Trump hasn't released his budget for 2017 yet. But he's hinted at what's going to be in it. On Monday, Mick Mulvaney, director of the White House Office of Management and Budget, talked to reporters about Trump's "budget blueprint" and what it contains.
Defense spending increase
The main takeaway from Mulvaney's spiel was that Trump wants to ramp up military spending significantly — a 9.4% increase over last year — and that only includes defense spending, a separate category from war spending.
Overall, Trump's budget proposal will include $603 billion for defense (a $54 billion increase) and $462 billion for everything else (a $54 billion "savings," as Mulvaney put it).
Trump's called those numbers "historic," but it's actually not the biggest bump to defense spending we've seen: In fiscal year 1981, defense spending jumped 25 percent ($96 billion in today's dollars), FactCheck.org reports. 1982 and 1983 also saw bigger spikes.
Cuts to the EPA, State Department
In terms of cuts, the EPA seems most likely to end up on the chopping block. On the campaign trail, Trump frequently railed against the EPA's environmental regulations, which he says hobble businesses, and he's already begun to roll back some of what the EPA did under Obama.
Reportedly, Trump would also like to take a hatchet to the State Department. A "source familiar with the issue" told Politico he wants to slash the department's budget by a whopping 37 percent, a move that made even some in Trump's own party queasy. 
Senate Majority Leader Mitch McConnell said Republicans would "probably not" OK such a drastic cut, and Sen. Lindsey Graham (R-SC) called it "dead on arrival."
Trump would also like to take a scalpel to foreign aid. "The president said we're going to spend less money overseas and spend more of it here. That's going to be reflected in the number we send to the State Department," Mulvaney said. Foreign aid, which includes money to fight HIV/AIDS in Africa and money to train and equip troops in the Middle East, is less than 1% of the budget (though most Americans think it's about a quarter).
Entitlement reform
What Trump won't be cutting is entitlements: Medicare, Medicaid and Social Security. Those three programs are by far the biggest drain on the federal budget, and budget hawks like House Speaker Paul Ryan want them trimmed. But Trump made safeguarding them a bedrock principle of his campaign, so tinkering with them at all would require some political gymnastics. Still, it's not inconceivable.