The 9 greatest Real Housewives and their most explosive moments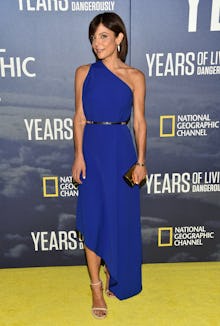 Being a memorable cast member of the Real Housewives is not an easy task. Just ask Jules Wainstein, the one-season wonder from Real Housewives of New York City. 
As the casts for each city get their yearly shuffle, a short yet exceptional list of women has emerged. Some of them flip tables. Others ask people to go to sleep. And a few of them air another's dirty laundry in an attempt to help.  
What does it take to become an all-time great? To stand out in the series it takes a mix of originality, creativity and the ability to play along. Only a few women have stood the test of time and have become the all-time greatest Real Housewives. 
Bethenny Frankel
What is there to be said about Bethenny Frankel that she hasn't said already herself? After three remarkable seasons on the Real Housewives of New York — and a spinoff, and failed talk show — Bethenny returned for the show's seventh season. Her return reinvented her as a reality show star and gave the show a new life. 
Bethenny is beloved for being outspoken. She is not technically a housewife by its proper definition, but she is real and that's what has earned her the top spot. Her antics last season with Luann D'Agostino and all the slut-shaming were deterring, but the Skinnygirl knows how to make great television. Plus, she's one of the Housewives who lends themselves so well to GIFs because she knows any moment can become internet gold. 
What makes Bethenny the best is that she has a personality made for this series. She is not only tough as nails, but she's smart and quick-witted, too. A lot of the Real Housewives take themselves too seriously, which gets them into trouble. Bethenny will be the first to call herself out after claiming you sleep with everyone. 
Best moment: Bethenny revealing to Luann last season she had evidence that her fiancé Tom had cheated was remarkable television. But, believe it not, it isn't her best moment. 
That honor goes to her fight with Kelly Bensimon in season three. The two got into a heated and insane argument as Kelly began to unravel in front of Bethenny. The two had tension all season, and it came to a boiling point when Kelly kept implying that Bethenny wasn't a chef, she was a cook. Kelly claimed she had a nightmare Bethenny was going to kill her and that she attacked her friend Gwyneth (Paltrow) in the press. Bethenny had enough of the mayhem and not-so-calmly told Kelly to "go to sleep."
Danielle Staub
She may have had just two seasons, but Danielle Staub is an all-time great. The first season of the Real Housewives of New Jersey is only 10 episodes, but that was enough for Staub to make her impact. 
Staub, like a lot of the other names on this list, came to play. She knew exactly what she was doing and made incredible television. She immediately rubbed all of the other girls the wrong way and she didn't seem too bothered by it. She is the kind of villain other reality shows are desperate for, but can't recapture. Ever since she left the show, it really hasn't been the same since. Maybe that's why she's reportedly coming back next season. 
Best moment: Before she was chased around the North Jersey Country Club by Teresa Giudice, Danielle topped her own best moment. In the first season, she asked Teresa to "pay attention, puh-lease" before the table was flipped for all to see. In the second season's most explosive moment, after a hostile confrontation with Teresa, she tells her, "That's-a-fuckin'-ough," and then the gloves are off. 
Ramona Singer
Over the course of the show's eight seasons, the Singer Stinger has been a low-key great Real Housewife.  
Ramona Singer has gone through a lot. She's gotten divorced from her husband, she got breast implants and she fell asleep during one of the reunions. You can always count on Ramona to make a sharp and snide comment and then quickly apologize for it. That is why she is both loved and hated. 
In season eight, Ramona showed some growth. Since her divorce, she's become a bit calmer and wiser, but hasn't lost her edge. She's arguably the funniest Real Housewife, but she doesn't know it. Singer is more of a scene-stealer and always has great one-liners, which is why she stands out. 
Best moment: In season three, Singer is asked to walk the runway in a fashion show. It's become one of her signature moments because words can't properly describe how odd and hilarious her walk is. 
Luann D'Agostino
Luann D'Agostino, previously known as Countess Luann de Lesseps, was at one time a friend of the Housewives. After she was demoted to a second-string cast member, Luann returned as a full-time cast member for season seven and became one of the greats. 
Luann is as ridiculous as they come, and she's learned to thrive because of it. She started off her stint on the Real Housewives of New York being holier than thou. She rubbed a lot of the women the wrong way because of her rules on etiquette — which she literally wrote the book on. In recent years, Luann has changed a lot, becoming a sexually free older woman. She's even gone toe-to-toe with Bethenny and lived to tell the story. 
Since meeting her now-husband, the infamous Tom, Luann has become one of the top-tier women. Loose, ridiculous and unapologetic, Luann isn't like the rest of them. And how can we forget about her brief stint as a pop icon?
Best moment: In season seven, Carole Radziwill and Heather Thompson discover a naked man in their vacation house. The women had gone out the night before and some of them brought home company. Carole and Heather are shaken to their cores and accuse Luann and Ramona of putting them in danger. After being accosted by the women, Luann is unfazed. "Be cool. Don't be all, like uncool," she tells them in response to their yelling. In that moment she gave herself an iconic tagline. 
Camille Grammer
The first three seasons of the Real Housewives of Beverly Hills should be studied. They are perfect seasons of reality television and they set the tone for the series. Part of the show's success is thanks to Camille Grammer, the ex-wife of Kelsey Grammer, who put a new spin on the reality TV villain.
In the first season, Camille was the show's enemy. The girls didn't like her and she was a bit cold at first. But we saw the façade slowly begin to crack. We watched as her marriage to Kelsey Grammer crumbled before the cameras when he left her for another woman. We even saw her attend the Tony Awards with her estranged husband in the middle of their separation. 
Camille used all of that as leverage when she returned for the second season. By reinventing herself, she became the most likable cast member and is one of the most beloved Real Housewives. 
Best moment: In season two, Camille has had it with Taylor Armstrong. Taylor revealed to a few of the women that her husband had been abusing her. Some believe her while others are unsure. Camille is looking to support her friend, but has had enough. It's one of the show's most significant moments and it's where Camille cemented herself as a great. 
Teresa Giudice
She went from flipping tables to turning them. Following her prison stint, everyone's favorite previously incarcerated Real Housewife returned to the show for season seven. And like so many Housewives whose breaks from the show do them well, Teresa Giudice returned better than ever. 
Teresa gave herself an all-time great status when she took a table and flipped it in the show's first season. Sometimes, a Real Housewife will wait a few seasons to show off their drama-making skills, but not Teresa. It's a series-defining moment that she thrived off of for years. Once her frenemy Danielle Staub left the show, Teresa's tumultuous relationship with her sister-in-law, Melissa Gorga, quickly followed. 
We've seen Teresa go through a lot and come out the other side. She's one of the more complicated characters who is sometimes hard to rally behind, but she'll eventually win you over.  
Best moment: For Teresa, it'll never get better than the finale of season one. It was the table flip heard around the world. At the dinner she planned, Danielle shows up and has something to get off her chest. She reveals the book — Cop Without a Badge — that has had all the other girls talking. In the book, it claims Danielle had been engaged countless times, arrested and involved in some unbelievable crimes like kidnapping. Danielle goes on the attack and, well, Teresa took matters — and the table — into her own hands. 
NeNe Leakes 
Two words: Bye, wig. NeNe Leakes put the Real Housewives of Atlanta on the map and there is no question about it. Her on-and-off feud with Kim Zolciak made for years of great television, and it hasn't been the same since both left the show. NeNe has gone on to try out her acting skills, and she's also joined the Fashion Police panel, but she'll always be a great Real Housewife to us. 
Nene has given us so many gifts. Take her countless taglines, for example, from "bloop" to "I'm very rich, bitch." After all her emotional walk-offs during reunions to her innumerable feuds, we hope the rumors of her returning to the show are true. Like Bethenny, NeNe knows how to make good TV, and she's conscious of that. It's a skill not a lot of the Real Housewives have. 
Best moment: NeNe's best moment actually didn't happen on an episode of Real Housewives. During an appearance on Watch What Happens Live, Kim was called in to confront NeNe. That didn't go exactly as planned, and the two women went off on each other. It's instantly quotable and hilarious, just like NeNe. 
Lisa Vanderpump
The Real Housewives of Beverly Hills owes a lot to Lisa Vanderpump. While she rarely involves herself in actual drama, the matriarch has always had a hand in it. 
She's been called out countless times for being a "sniper from the side" — thank you, Erika Jayne. Brandi Glanville accused her of not being loyal to most of the girls and doing a lot of behind-the-scenes work. Lisa Rinna revealed at the season six reunion that LVP pushed her to accuse Yolanda Hadid of lying about her Lyme disease. And yet, she's still around and unbothered. 
She's not exactly a villain or the show's sweetheart, but you can't help but love and respect her. She's even built her own mini-reality empire within the Bravo world. Her spinoff show, Vanderpump Rules, is the best drama on TV, and that is because Lisa knows exactly what she's doing. 
Best moment: When the women go to Dubai in season six, Lisa Vanderpump is attacked by nearly everyone, and we see her at her most vulnerable. Her best friend Kyle Richards just wants her to be honest. The rest of the ladies want her to admit that she pushed Lisa Rinna to discuss Yolanda's illness. Leave it to Lisa Vanderpump to not only not apologize or own up to it, and still get away with it all. 
Lisa Rinna
Love her or hate her, Lisa Rinna knows how to make good TV. Her role as a Real Housewife is her best gig to date and she knows it. Well, maybe not as good as that Depend commercial. 
Joining the Real Housewives of Beverly Hills in its fifth season, Lisa has been stirring the pot ever since. She's always causing drama with the ladies, but they love her anyway. Even though she is only in her third season on the show, she's made such an impact that she's now a Real Housewives staple. Her ongoing feud with Kim Richards came to a close on Tuesday's episode, but we'll see if that lasts. 
Best moment: Lisa has provided so many instant classics since joining the show, it's hard to pick. Taking out the phone receipts during her fight with Lisa Vanderpump is worthy of a mention. She took things to the next level when she threw a wine glass at Kim during their fight in Amsterdam in season five. Kim implied she knew something about her husband, Harry Hamlin, that could be devastating. Well, Lisa put those soap opera skills to good work. Hope Eileen Davidson let her borrow her Emmy for the week. 
Mic has ongoing TV coverage. Please follow our main TV hub here.