Nintendo Switch 'NBA Playgrounds' Release Date: What is this mysterious hoops title?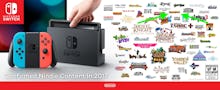 Sports gamers, there looks to be a new game on the way, and it's apparently headed for the Nintendo Switch. The company recently announced an upcoming game called NBA Playgrounds, though we still don't know much about this mysterious title.
On Wednesday, Nintendo announced a bevy of new indie titles coming to the Switch via its Nindies program. The list includes classic titles like Shovel Knight and Stardew Valley, but it also featured some unexpected additions.
NBA Playgrounds Nintendo Switch release date: What we know
All we know for certain is that NBA Playgrounds is coming to the Switch sometime in 2017. That's been confirmed by Nintendo, which included the game in a graphic (embedded up top) show the title along with other indie games launching on the new console.
NBA Playgrounds Nintendo Switch: What to expect
There's no real information on this title available online, but it doesn't take a rocket scientist to figure out its a hoops game of some sort. The official NBA logo tells us there it likely include real teams and players. 
The name "playgrounds" implies it could be a streetball theme, and the artistic style of the logo would seem to support that concept. This is when the eyes of virtual hoop heads around the world open up widely.
Fans of this order have been waiting for another game along the lines of NBA Street for years; NBA Playgrounds could be that kind of title.
The simulation basketball market is all but cornered by NBA 2K. Gigantic publishers/developers like EA Sports are still trying to stay afloat in that market with embattled franchises like NBA Live. So going the streetball route is a much better approach. 
As more information becomes available for this title, we'll most definitely deliver thoughts and analysis. Stay tuned!
More sports gaming news and updates
Are you a sports gamer? Check out more content from Mic, including news on Tips on leveling up your NBA 2K17 MyPlayer, Playing QB in Madden 17 and the latest information on MLB The Show 17.