Broke but need a vacation? Here are 5 genius staycation ideas for less than $100.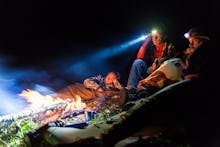 Don't give up vacation because of your budget: Taking a break is healthy. Just think local and get creative: maybe even a little weird. Embrace the art of the staycation — to save money and explore the riches around you.
The best staycations are planned in advance, with plenty of thought and creativity, Jill Gonzalez, analyst at personal finance site WalletHub, told CNBC last summer: "Look at it as though you're new to town. The best way to approach it is you're discovering or rediscovering your own backyard."
Thanks to lots of theme parks, sunshine and beaches, some of the top cities for staycations are in Florida and California, according to WalletHub, but fun can also be found in New York, Minnesota and virtually all other states.
Creative ideas will maximize your staycation dollar, so here's a list — ranked from laziest to most ambitious — of ways to relax, explore your hometown (or streaming video queue) and enjoy your time off work, all for $100 or less.
5. Netflix-and-spa
If your job is stressful, you might just want to stay at home during your time off. It's cool — you've earned some couch potato time! But you can go big, even as you go (well, stay) home. Instead of Netflix and chill, try movies, blanket forts and a home spa treatment. Grab comforters and pillows and make sure your Netflix (or Amazon Prime or Hulu or HBO Go) subscription is up to date.
In case your fort-building skills are rusty, start with the basics — at least three sheets or blankets, as many pillows possible, sofa cushions, comforters, furniture and fasteners like safety or clothes pins; rubber bands work, too.
To really make it epic, bring in some Christmas lights and snacks. Position your fort either near the TV or (if you're a pro) build the fort with the TV inside! Then pick your poison, whether it is comedies, romance flicks, classic snow day movies or original shows. You could also relive the excitement from award season and find recent Oscar winners available for rent on websites like FandangoNOW, iTunes, Google Play or YouTube.
Need to take a break from staring at a screen? Create a relaxing oasis at home, which will leave you rejuvenated and refreshed when you return to work.
"Zen out" and take a break from life's stresses, which means not taking calls, answering work emails and breaking from the 24/7 news cycle. Seriously. If you have pets, send them to grandma's house for the week or give them a spa day at a local pet spa, which can run from $30 to $80 for basic services.
Next, it is your turn: Treat your skin and body to spa services from home. Recharge in the tub with an inexpensive, fizzy bath bomb. Use safe and natural ingredients to create facials and skin, hair and sensory treatments to complete your week (or weekend) of luxury and relaxation. Light a few candles, put on soothing music and allow your mind and body to decompress.
4. Travel the globe without leaving city limits
If you live in a city with large immigrant populations, you might be able to immerse yourself in foreign culture without ever stepping outside your metropolis. Bike or hop on public transit to visit a local ethnic enclave to take classes — think: art, cooking, foreign language — and try out new foods.
3. Become one with nature
Grab your camping, hiking and star-gazing gear to connect with Mother Earth. Outside of pitching a tent in your backyard, you can camp for free if you know where you go: Free Campsites provides a comprehensive list of free and inexpensive camping areas across the country, including a review of camp site amenities, camp site management company, activities and locations.
Add to your camping adventure by including a nature-interactive activity each day, like bird watching, trying your hand at building a campfire, geocaching and stargazing at night.
Don't forget to bring a portable grill for cooking and a large ice chest to hold beverages and keep food cold. Other "must-brings" are a first aid kit, sunscreen, bug spray and a portable cell phone charger.
Want to get active without sleeping in the woods (or desert)? Use apps like Groupon or Living Social to score deals on adrenaline-heavy outdoor activities like skydiving, hang gliding, paddle boarding and deep sea fishing. Or simply do a day trip to a botanical garden or nature preserve. Enhance your adventure by inviting friends to join you — or make this a solo sojourn.
2. Transform into a tourist
To really do staycation tourism the right way, you need to commit. First, hit your local library to borrow history or guide books, and stock up on maps and walking tour guides, as well. Then, make a list of all the top tourist activities you've never gotten around to — or haven't done since you were a kid.
You might want to look for city scavenger hunts to up the excitement, or sillier activities like paintball or laser tag. Don't neglect local theaters, zoos or aquariums, concerts, minor league sporting events or bowling. When all else fails, just Google "staycation ideas" and the name of your city or town.
Urban areas also tend to be rich with museum-hopping opportunities (including obscure and weird spots you may have never visited) and often have either free or inexpensive admission. Not sure where to start? Check out Great Museums, which not only lists museums and cultural centers in each state, it provides a link to each museum website.
Examples of funkier, offbeat locations include the Museum of Clean in Pocatello, ID, dedicated to tidiness and the Museum of Bad Art in Brookline and Somerville, MA — touted as "art too bad to be ignored." Ask museum staff for advice on the best way to see the exhibits.
If you're a hardcore local, you might need to dig deep. Maybe you've never learned to golf at that local course — or checked out the breweries or wineries in your area. This doesn't need to bust your budget — just choose wallet-friendly options (maybe golf becomes mini-golf) and seek out deals, like the Monticello Wine Trail in Charlottesville, VA where some wineries charge only $9 per tasting. Embrace your hometown's style with local favorites like like MC BBQ in Houston, TX, where a chopped beef sandwich goes for $6.
If you're willing to spend a little more than $100 in the name of vacation authenticity, you can take your staycation to the next level — by booking an AirBnB or a cheap hotel room to get that away-from-home feeling. Some hotels might even offer discounts for locals or be willing to cut their rate for walk-ins on a low-occupancy night. After all, there's no better leverage while bargaining than being able to say, "Never mind, I will just go home."
1. Hunt ghosts like a pro
You're tired of Netflix (and your couch) and you never want to see another food truck or museum again. Time to take things up a notch. Those who seek a more "chilling" staycation can take their courage on a ghost hunt.
Popular haunted destinations include the Rolling Hills Asylum in East Bethany, NY, where a two hour guided walking tour is only $20 per person (plus tax), or the Old South Pittsburg Hospital in South Pittsburg, TN, for a spooky $65-per-person all-night public tour. To up the ante — and ghost count — you might alternatively try a cemetery tour by moonlight.
Before embarking upon any ghost tour, experts recommend researching the location first so you know what to expect and when is the best time to spot ghosts. Plus, reading up on the local folklore (aka ghost stories) will make your experience all the more thrilling.
Remember: You must get permission from the property's owners if you are planning to visit a private haunt. Steer clear of abandoned buildings. Bring friends — and maybe an EMF meter, for around $20, to detect electromagnetic fields and an EVP (electronic voice phenomena) to capture ghostly sounds for about $44. A small first aid kit is also recommended.
Sign up for The Payoff — your weekly crash course on how to live your best financial life. Additionally, for all your burning money questions, check out Mic's credit, savings, career, investing and health care hubs for more information — that pays off.