'Zelda: Breath of the Wild': How to get Epona using a specific Link amiibo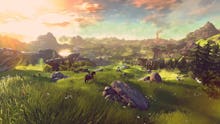 If you're looking for Epona in the latest Zelda adventure, The Legend of Zelda: Breath of the Wild, you might be looking for a while. That's because there's a bit of a special process you have to go through in order to get Epona. We've got it detailed for you here so you can get ahead of your peers and ride with the most famous horse in Zelda history. 
Zelda: Breath of the Wild: How to unlock Epona
If you want to get Epona, you'll first have to procure a Link amiibo from the wave of Super Smash Bros. amiibo figures. Neither Toon Link nor the Breath of the Wild amiibo figures will work, so make sure you have the original classic Link figure.
Next, you'll need to head to the the Plains of Epona, according to Gosu Noob. Scan the amiibo into the game by tapping it to the right Joy-con. You'll hear an unlock noise. Once that happens, Epona herself will appear. 
She'll look just like Epona when you spawn her, but to make sure you've got her, head over to the nearest stable to save your new horse. The stablehands will try to ask if you if you want to name her, before realizing who it is and warning you that "you can't rename a horse of legend," according to this Eurogamer video.
Check out more Nintendo Switch news and coverage
Check out our comparison photos sizing up the Switch to the Wii U GamePad, along with details on the console's price, release date, pre-orders, battery life and our hands-on review. If you're interested in the Nintendo Switch's games, here's info on the new Super Mario Odyssey, Legend of Zelda: Breath of the Wild, Splatoon 2, Xenoblade Chronicles 2, 1-2-Switch and the goofy boxing game Arms.