Rachel Dolezal changes name to Nkechi Amare Diallo — good luck with those job applications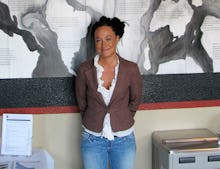 Lately, things seem to be rough for Rachel Anne Dolezal, the white former local NAACP leader in Washington state who had been self-identifying for years as a black woman until her parents outed her as their very white daughter in 2015.
Dolezal is reportedly struggling to find work, is nearly homeless and receiving food stamps benefits, after losing her teaching position at Eastern Washington University in Spokane. In October, she found enough loose change to pay a $156 fee to change her name to Nkechi Amare Diallo.
But in the grand scheme of things, that may be one of her biggest mistakes. The former African-American studies lecturer should know that job applications bearing culturally black or ethnic names are less likely to get callbacks from employers, according to numerous academic studies.
White-sounding names like Emily and Greg received 50% more callbacks from job recruiters than black-sounding names like Jamal and Lakisha, a 2004 study by the American Economic Review found. A newer study by researchers at University of Toronto and Ryerson University found that Asian-sounding surnames like Khan and Suzuki were 28% less likely to get callbacks for interviews than Anglo-sounding surnames.
Dolezal's new name, which was first reported Wednesday by the gossip site Daily Mail and independently confirmed by Mic, was approved in a Spokane County district court. Dolezal officially became a Diallo on Oct. 7, 2016, a district court clerk confirmed by phone.
Granting or denying of a name change is completely up the judge that signs off on it, Christina Wentz, a Spokane County court official, said in a phone interview. It's not clear if Dolezal had to explain why she wanted the name change.
Dolezal did not immediately respond to Mic's email request for comment Wednesday evening.
The name Nkechi has origins in the Igbo tribe culture from West Africa and means "God's gift" or "what God has given." Mic was not able to determine who gave Dolezal that name.
Her former legal surname appears on her soon-to-be published memoir, In Full Color: Finding My Place In A Black And White World. Now, all that's left to find out is whose name she'll be autographing at book signings.